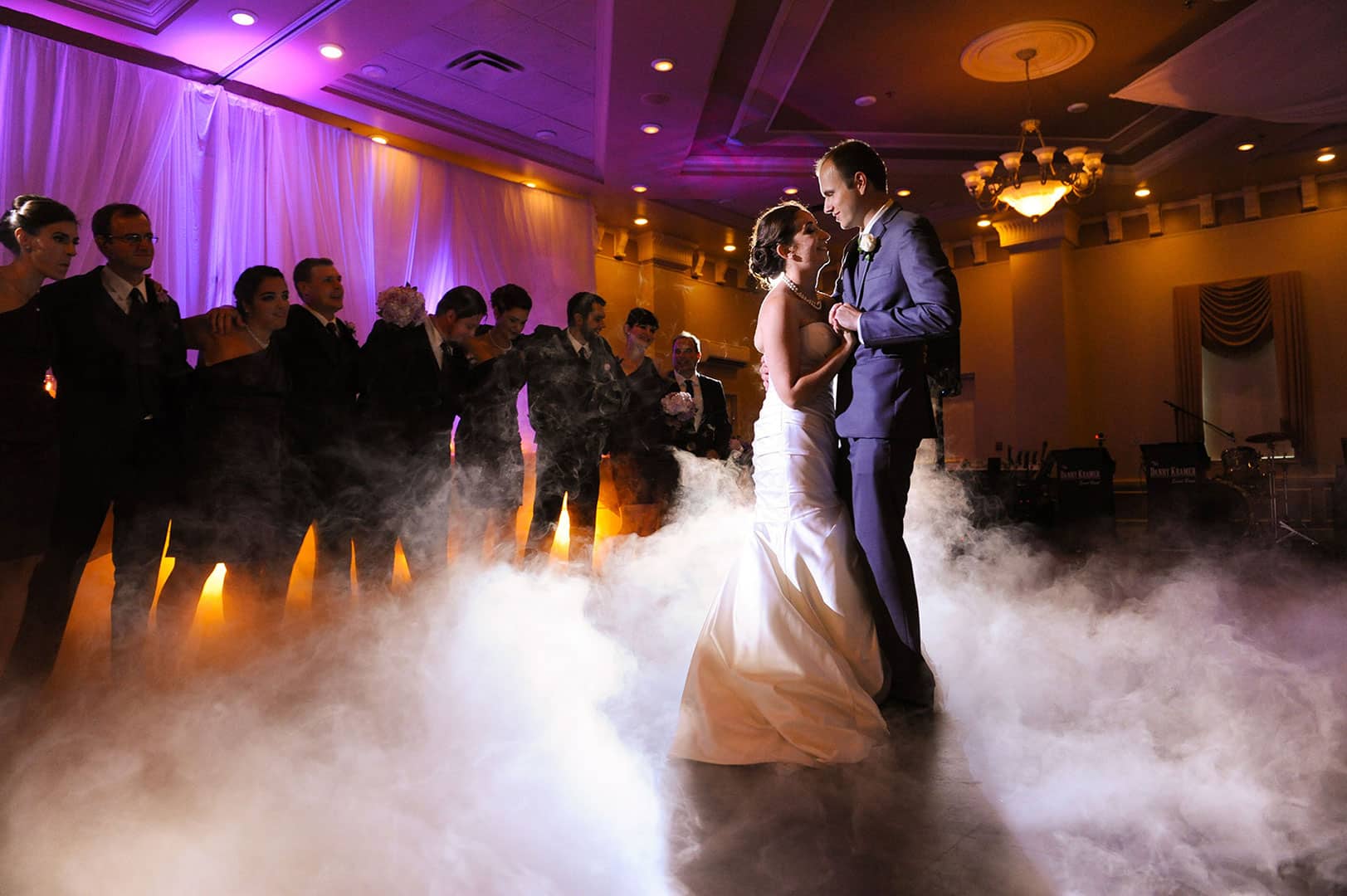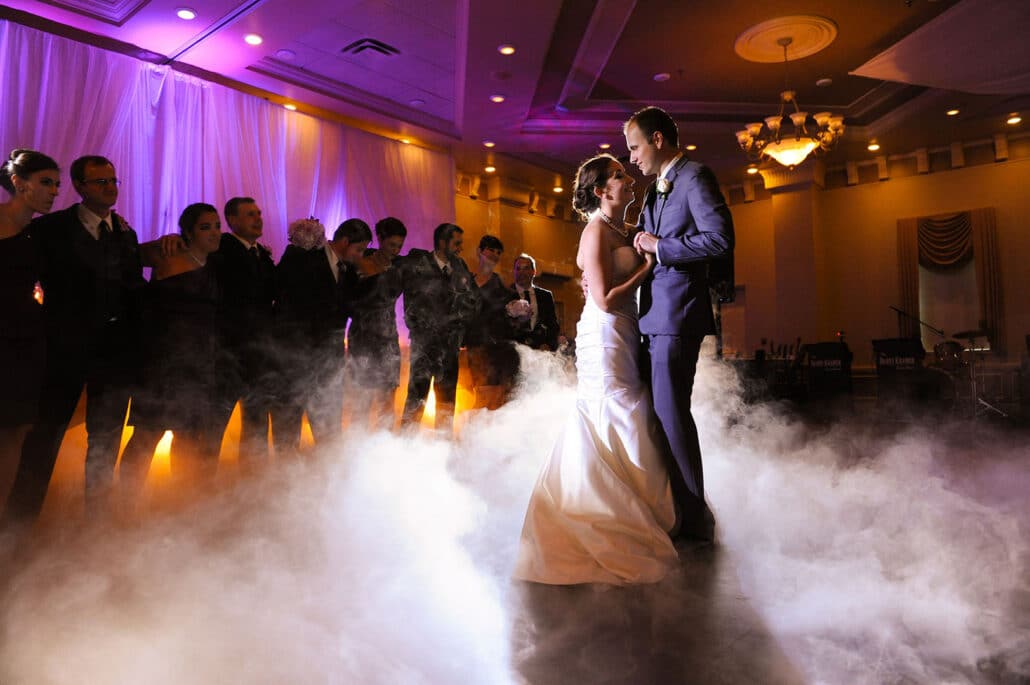 Not only do we provide a first-class wedding entertainments experience but we also like to add that little bit of extra magic to make it that bit more special! Please have a look at our enhancements and get in touch with us if you have any questions.
To view the pricing of our enhancements, please click here.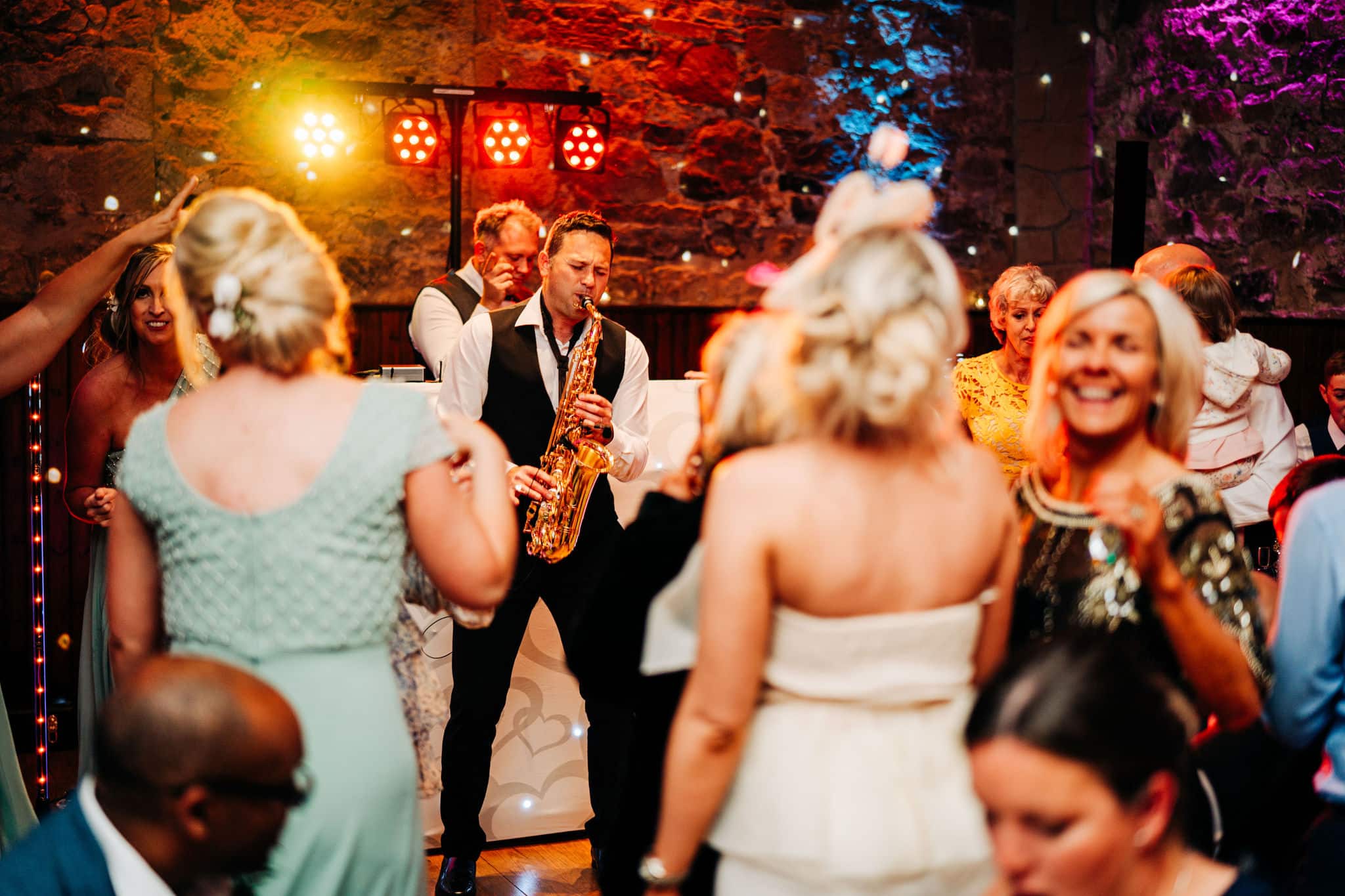 What's cooler than having your guests entertained at your wedding, during the drinks reception or wedding breakfast, to the sound of a live, professional, wedding saxophone player!?
Our super cool and super experienced Saxophone player will accompany the classics as they are played, having your guests left in awe of the sounds of one of the best instruments ever invented!
With their adaptable, freestyle approach, our Sax player will use their intuition and ear for music to play along to dance floor classics.
We can also provide an accompanying bongo player to add even more to your event.
If you would like the saxophone player to play during the evening, please check out the saxophone/dj page
Please contact us for further information and availability and pricing
Our new audio guest book which captures authentic messages from friends and family at your event!
It can be totally personalised by yourself, with a custom audio message from you for your guests to leave a message to.
We will collate them all into a keepsake for you to listen and cherish forever.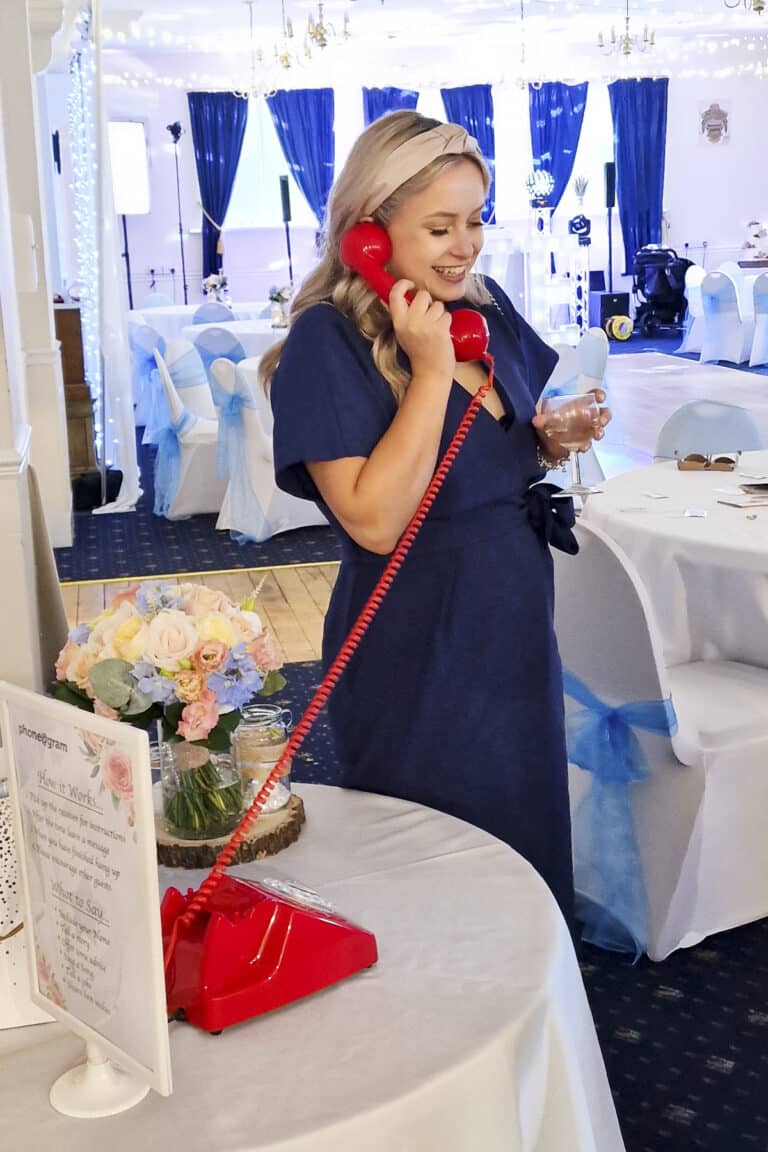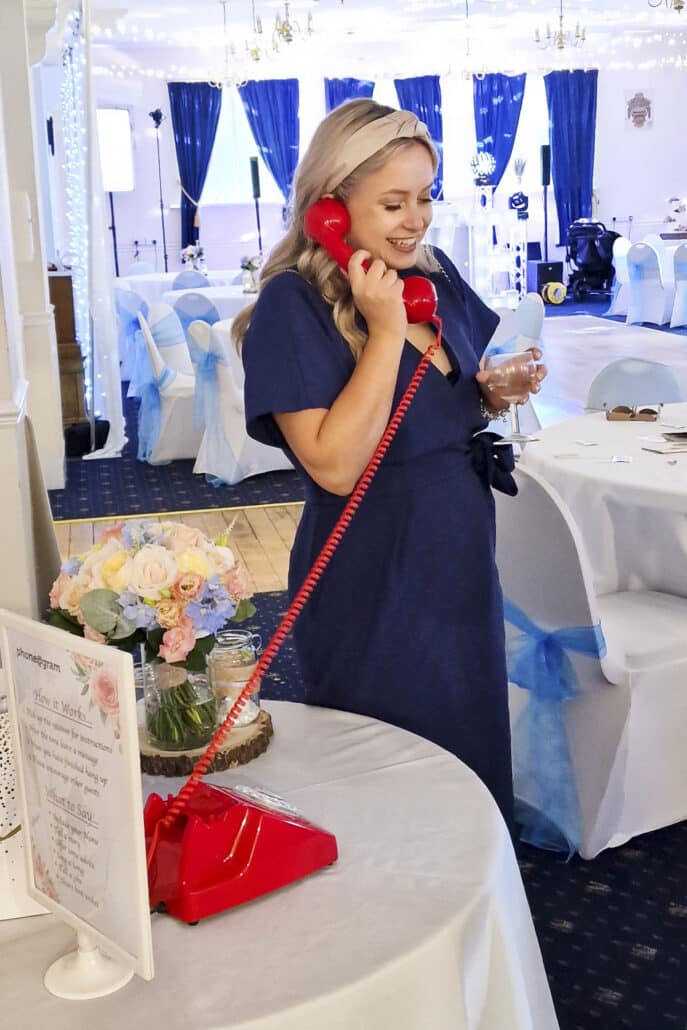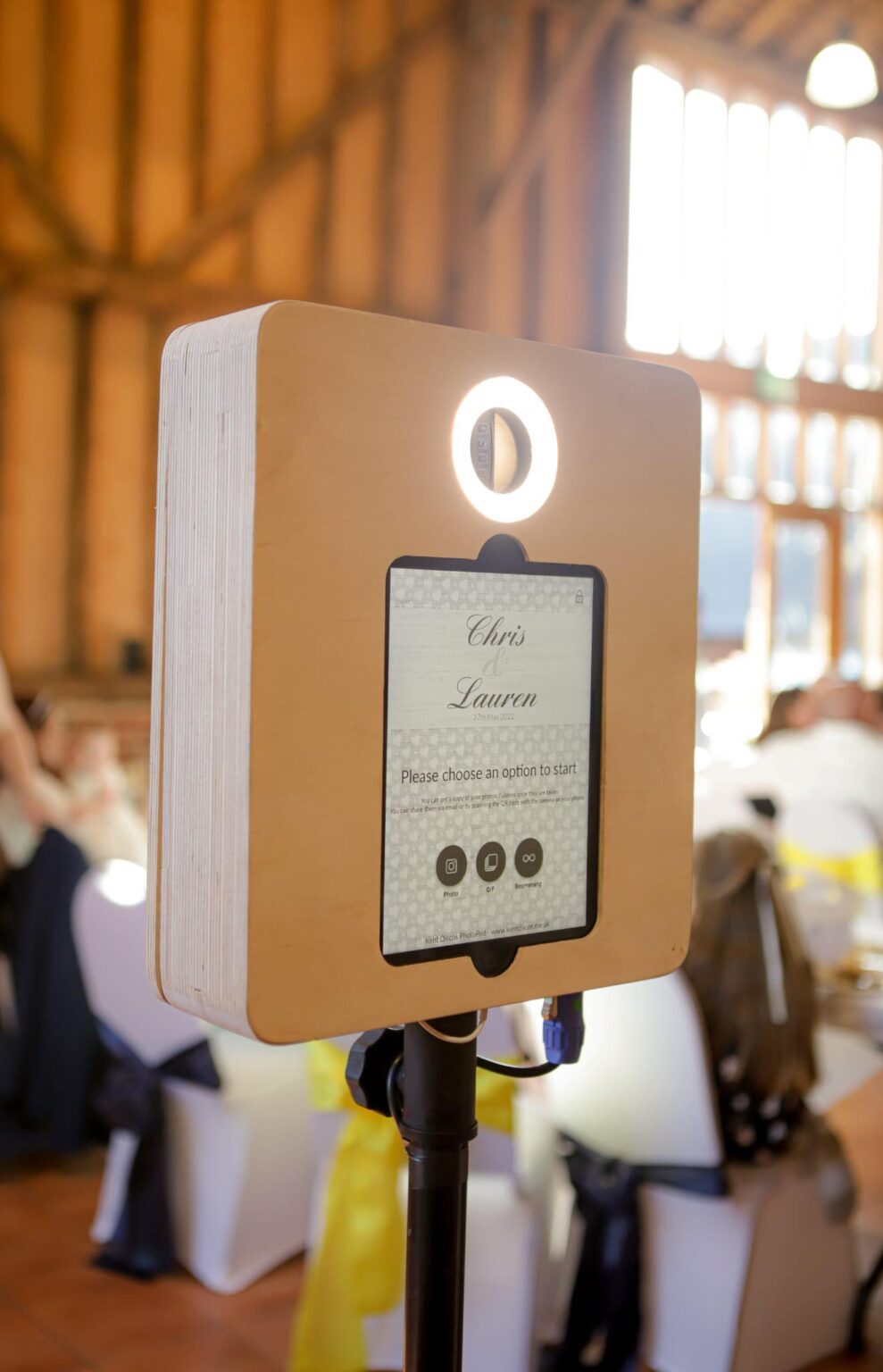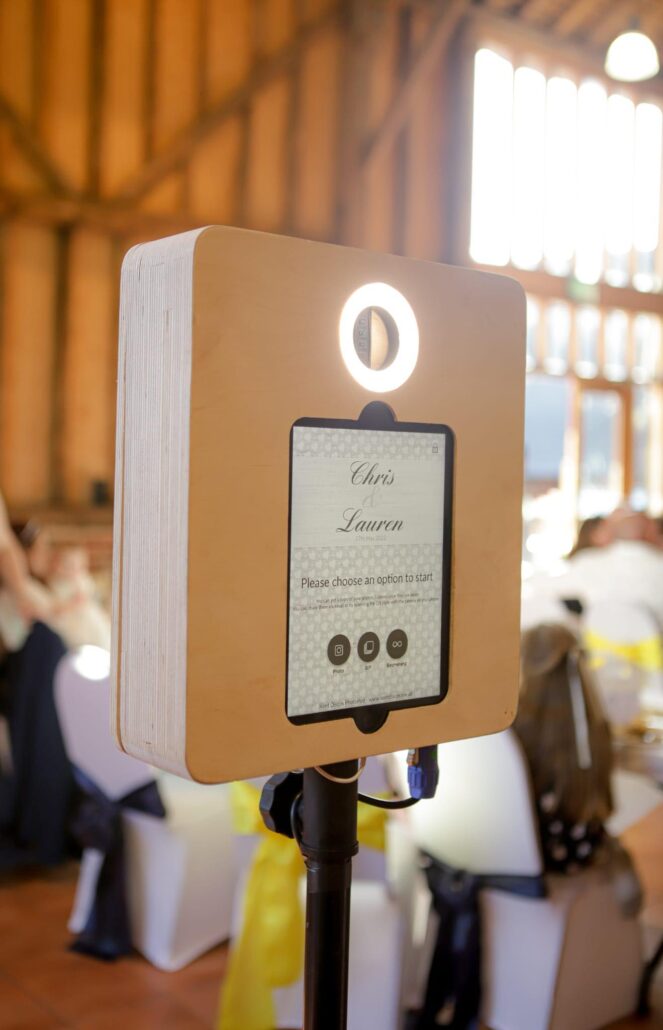 Our BRAND NEW Selfie Pod Photobooth is absolutely perfect for all events such as weddings, celebrations and corporate events.
It will fit into any venue and brings the experience to you and is packed with features to cater for any type of event.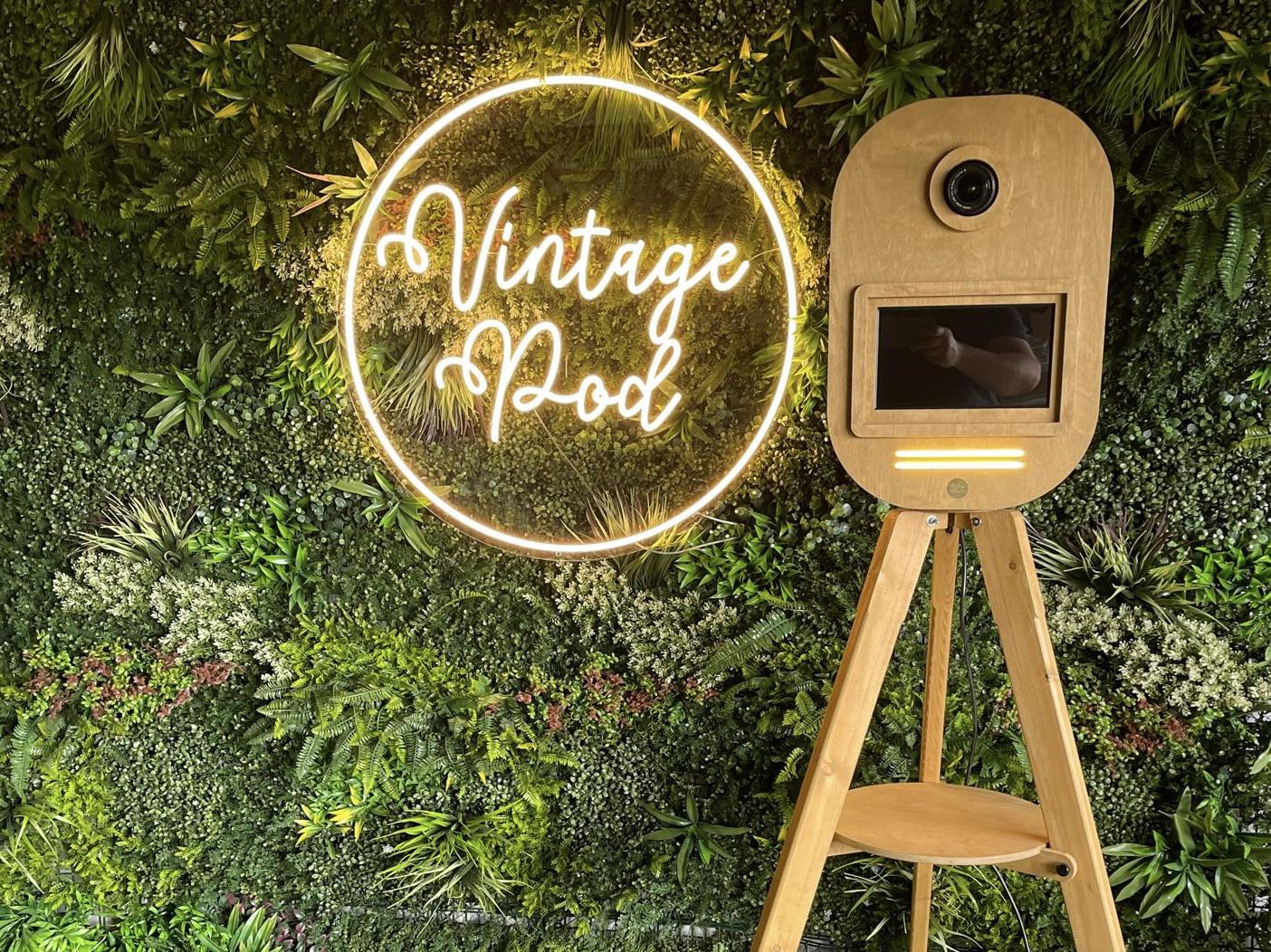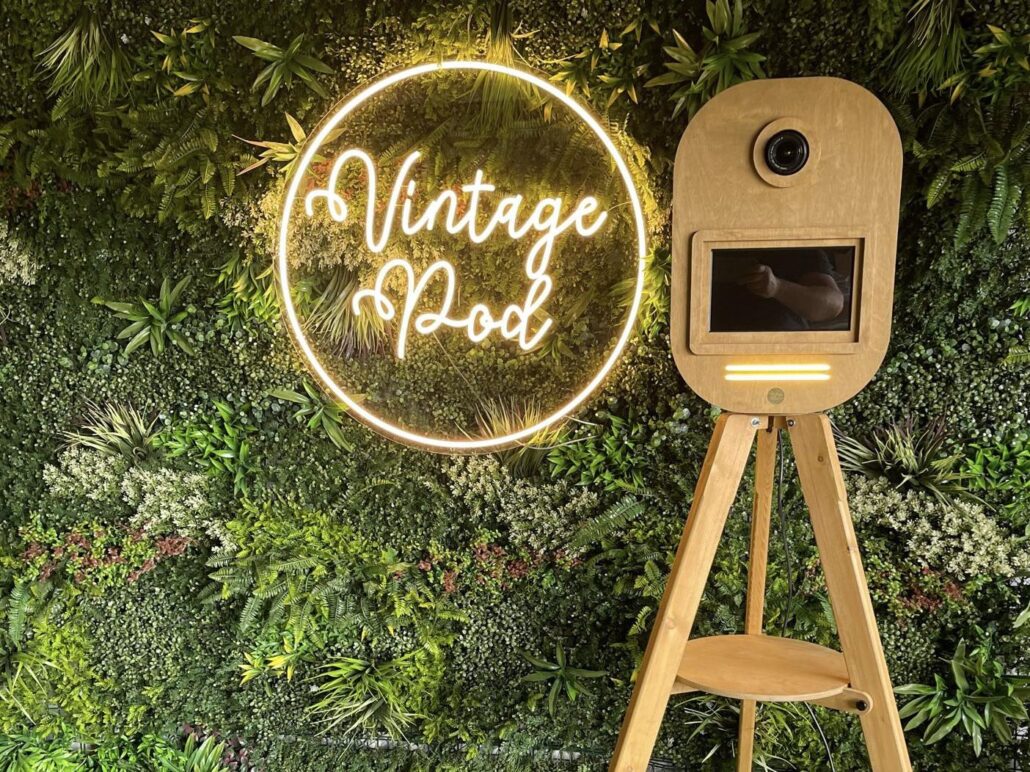 What a better way to get the party started than with an explosion of confetti over the whole dance floor!
To really celebrate you need a confetti cannon that will fill the air with a giant cloud of confetti perfect for the first dance at a wedding.
We can provide you with even more fun by throwing in an extra party favour – confetti canons. Confetti and streamer launchers are a safe way to create pyrotechnic special effects without the needs of regulations and an outdoor area.
If you like the look of fireworks, confetti cannons will give you just that effect except at a lower cost and a much safer experience you can do indoors.
Confetti cannons are also a popular way to set off a surprise party, or to end off an amazing evening or special dance.
Launch showers of streamers and confetti that will be burst into mid-air during a birthday party, wedding, prom, or even an exciting anniversary party!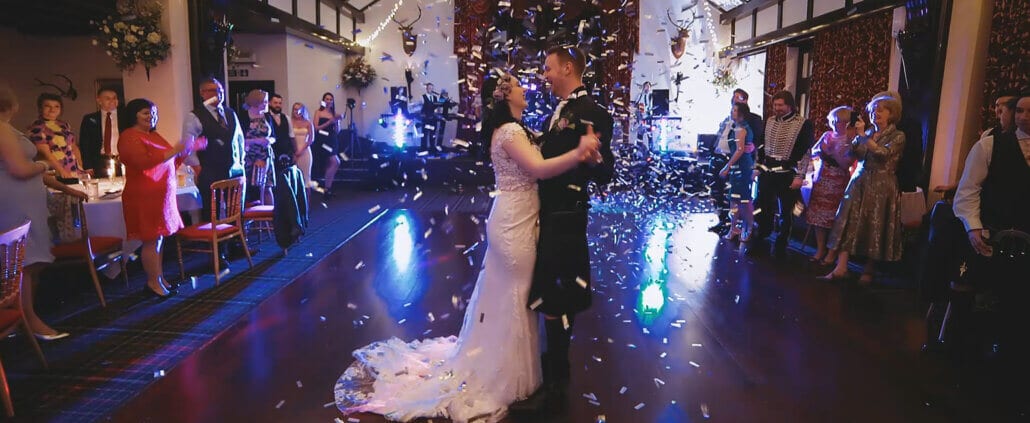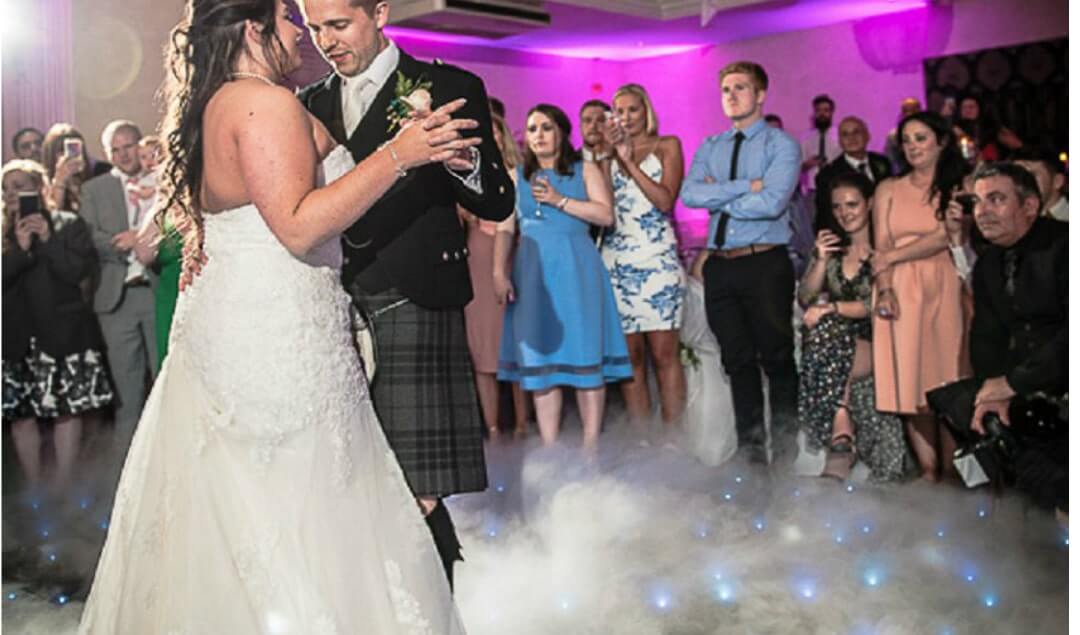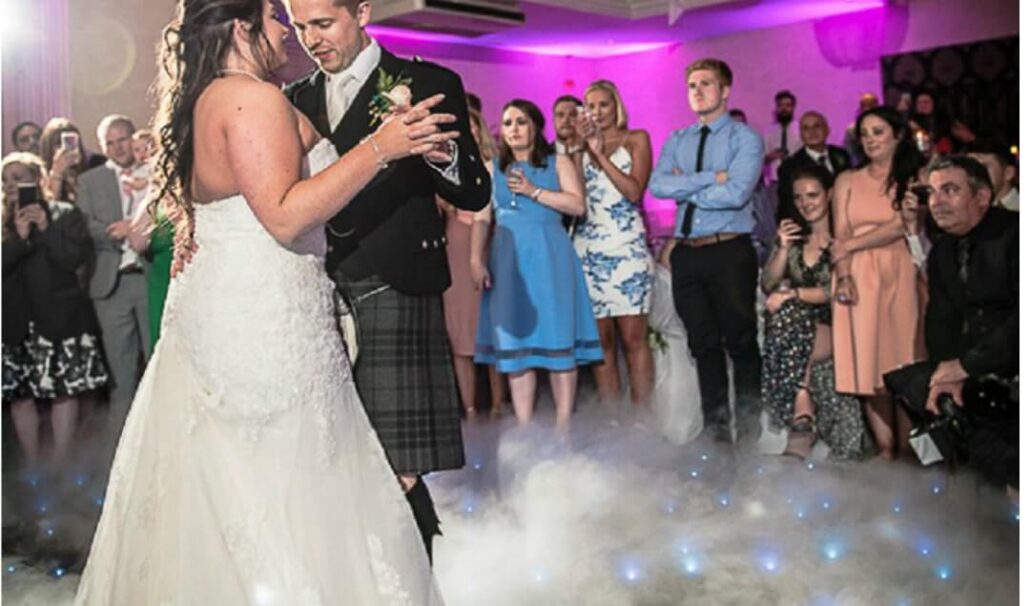 We have the perfect effect that will make your first dance one that your guests will remember for many years to come, our beautiful effect, Dancing on the Clouds.
This effect is one of our most popular enhancement and is a fantastic photo opportunity which will amaze your guests.
The "Dancing on the Clouds" effect is mainly suited for your first dance and creates the same effect that you will see on popular TV programmes such as X-Factor, Britain's Got Talent and even Top of the Pops.
The cloud is created using real dry ice, not low lying fog fluid or ice cubes.
The clouds last for the duration of your song, the effect will be talked about all evening but the memories of you Dancing on the Clouds will last a lifetime.
*Please note that some venues may be reluctant for this safe and harmless effect to be used at your event. If this is the case, please refer them to the following blog post we wrote
This is NOT a smoke machine and the plumes consist of frozen co2 gas (the gas we breathe out). Due to its nature, it stays close to the ground and anything above knee level evaporates immediately. This means that smoke detectors/fire alarms WILL NOT be affected.
We will be more than happy to speak with your wedding venue regarding this effect.
All you have to do is to contact us to enquire about having your first dance on the clouds
"We have seen the Dancing on the Clouds effect many times when we watched X-Factor, BGT or Top of the Pops and never imagined it would feature at our wedding. We were so happy to have Fresh Entertainments come along and provide this stunning effect on our special day and it made our first dance photographs absolutely amazing!
Our wedding coordinator wasn't sure that it would be that great as it may have set off their fire alarms. This was not an issue due to Fresh using real dry ice and not just smoke. I can honestly say that the first dance could not have looked any more stunning than it was. I would thoroughly recommend you hire this if you are thinking of it!" – Gemma & David, Mar Hall Wedding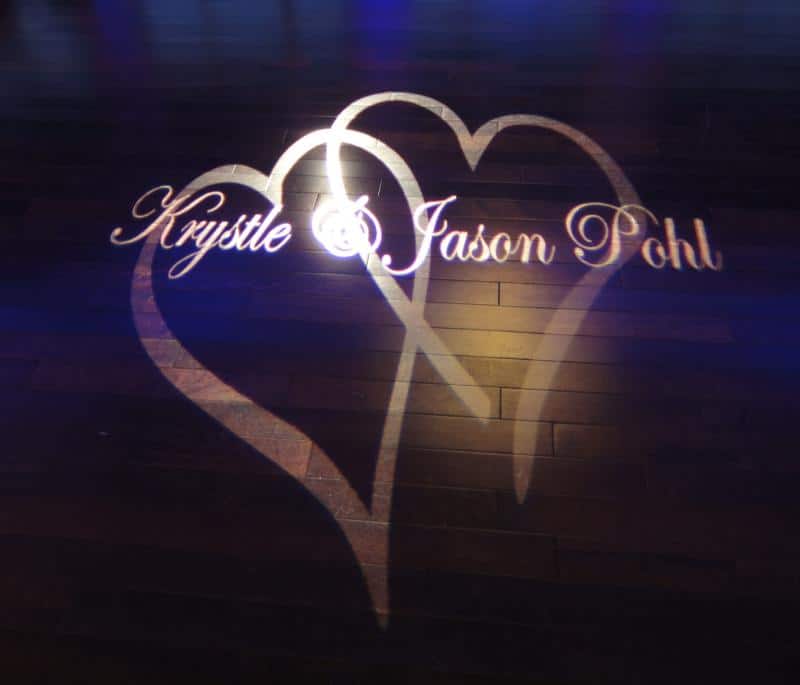 Personalised name projection involves cutting a personalised design in a metal or glass plate, beautifully created in Italy.
This plate is then inserted into a special lighting fixture and the design is projected onto a wall or the dance floor…with your details on it!
This added personalised enhancement makes your special event even more unique.
To discuss your event further, please get in touch.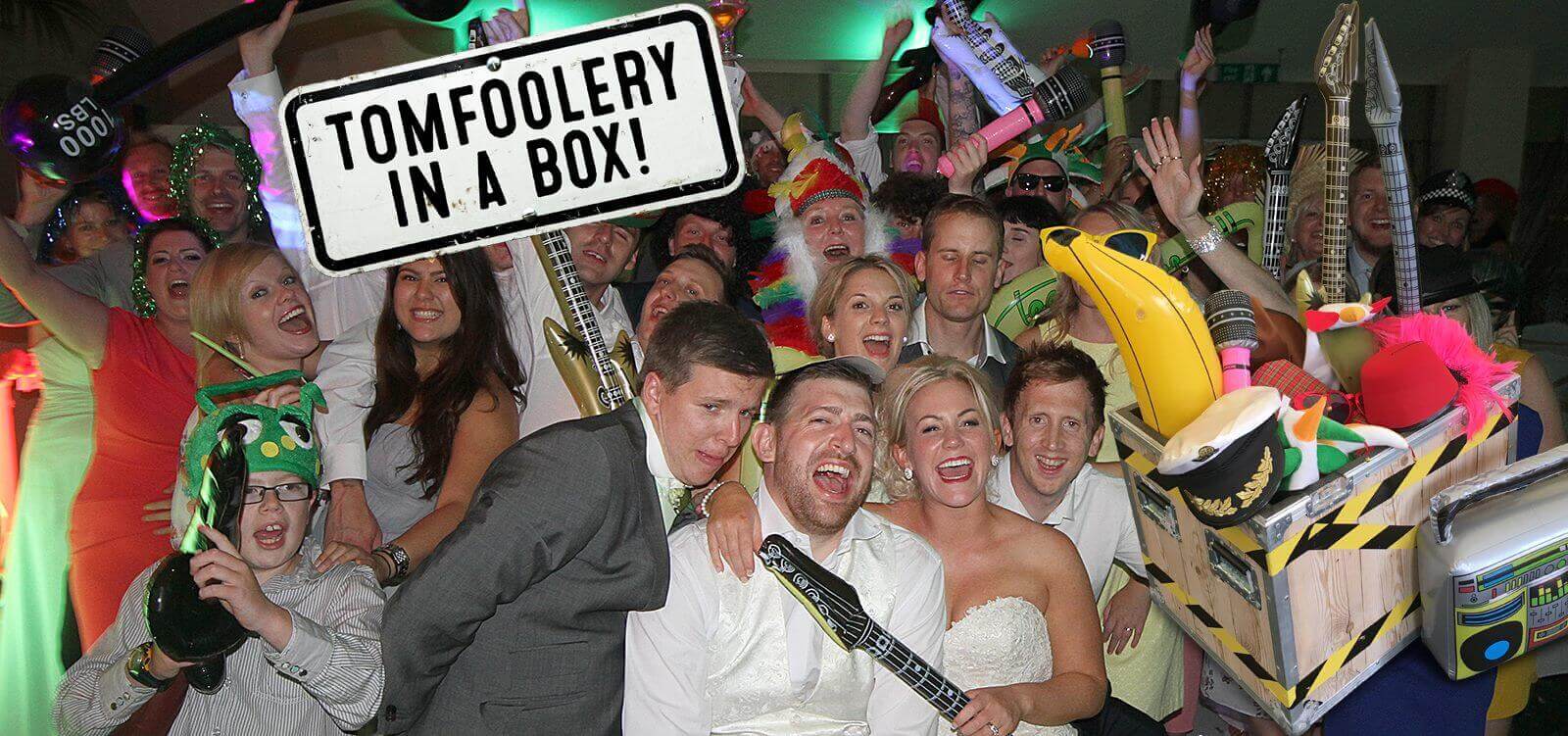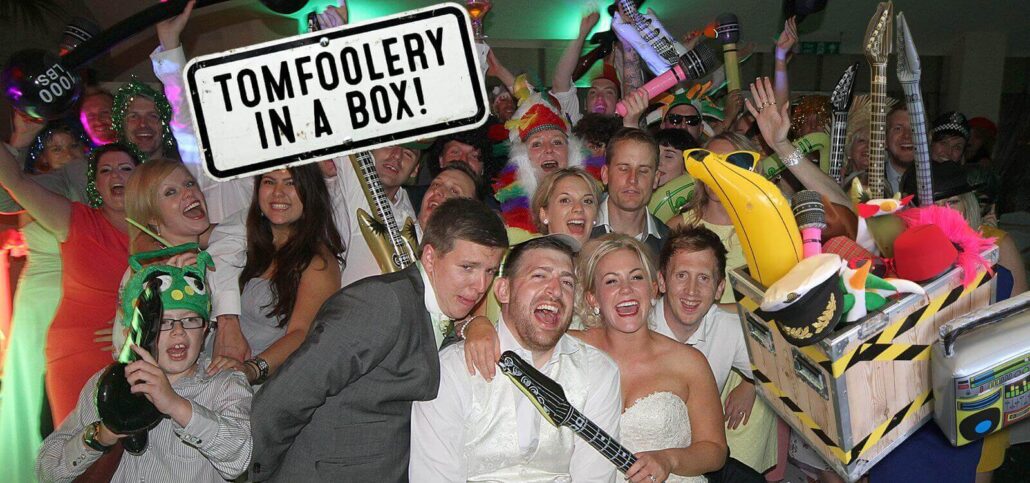 At a predesignated time (worked out by yourself and us), a mysterious flight case is carried by two volunteers to the very centre of the dancefloor. There it is left for all to marvel at and speculate about (the contents, at this stage, are only known to the organisers and ourselves). The Tomfoolery Box has been pimped to look like it's been delivered straight out of Jurassic Park! It sports a dangerous-looking livery with distressed timber effect surfaces, black and yellow warning tape and messages asking guests to 'keep out' and 'stand clear'. The word 'TOMFOOLERY' is of course centre-stage on the lid.
So as the lid is lifted and the fun spills out: between 60 and 100 party props are rammed into the box! Some inflatables are already blown up ready to fly out upon opening, others are ready to be inflated by the guests.
We include everything from the standard guitars, saxes and mics to bananas, crutches, boom boxes, barbells and Tommy guns… all inflatable! There's also plenty of crazy headwear, from animals (elephant, monkey and piranha) to traffic cones and Where's Wally hats! I also usually include the full Village People headgear collection – helmets and caps – along with amazing wigs, a great selection of huge glasses and plenty of noise-making instruments.
And the best bit? Your guests can keep the lot!
Letting guests keep the props also results in a memorable post-party exodus as they stagger home in full 'tomfoolery mode'.