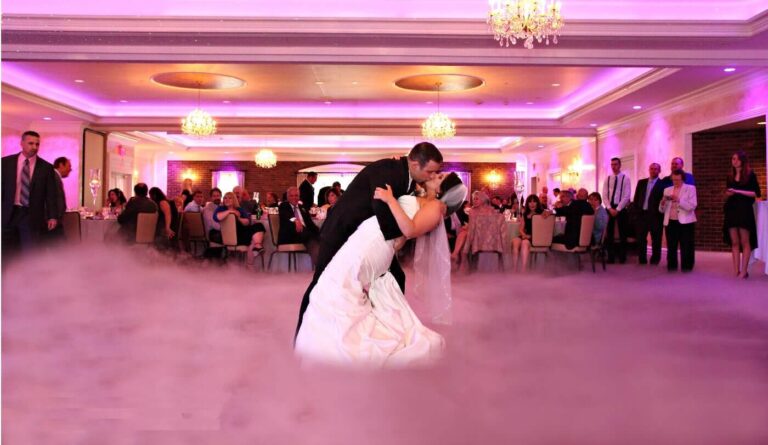 Welcome to Dancing On The Clouds!
We have the perfect effect that will make your first dance and wedding one that will keep your first dance together in your guests' memories for many years to come. We have a beautifully stunning visual effect that we call "Dancing on the clouds". 
This is a fantastic photo opportunity and will have your guests running for the cameras for your first dance. It truly is the focal point of any wedding and is the much-anticipated highlight by your guests. Dancing on the Clouds will create a breathtakingly beautiful scene, along with being completely safe with the newlywed couple dancing together with some extra magic thrown in.
Some venues may be hesitant to allow you to use our clouds effect at their venue due to previous experience with other suppliers using sub standard effects and their alarms being activated. Please allow them to read our blog entitled "Dancing on the Clouds – What are the differences?"
"I just wanted to send a message to say thank you! You made our first dance magical, everyone loved it and pictures look amazing. Once again thank you xx"
Our professional, tour-grade machines create the magic purely with only hot water and real dry ice…nothing else! 
No smoke fluid is being passed through ice cubes in an attempt to create an illusion we create but after a few seconds, the "clouds" rise up and can set off alarms within venues. 
Dancing on the Clouds is a special effect created by using a professional dry ice machine and using high-grade dry ice pellets which produce thick, white fog that hugs the floor and dissipates without rising.
Wedding venues will not have to worry, it is perfectly safe, odourless and harmless and will not leave any residue or affect fire or smoke alarms!
Dancing on the Clouds can be hired independently of any wedding package for only £250!
We offer our services throughout central Scotland and further (please note travel charges may apply)