About Fresh Entertainments
Here you can find out about us here at Fresh Entertainments and why we should be the first choice for your special day for your wedding entertainment.
Every cherished moment at your wedding should be unique, memorable and most importantly, FUN! Our number one goal for your wedding is to make you and your guests have one of the most unique and elegant nights of your and their lives. The focus is solely on your beautiful moment and creating memories and stories that will be told for years!
All weddings and events need quality entertainment so that you and your guests all have a memorable time, for the right reasons.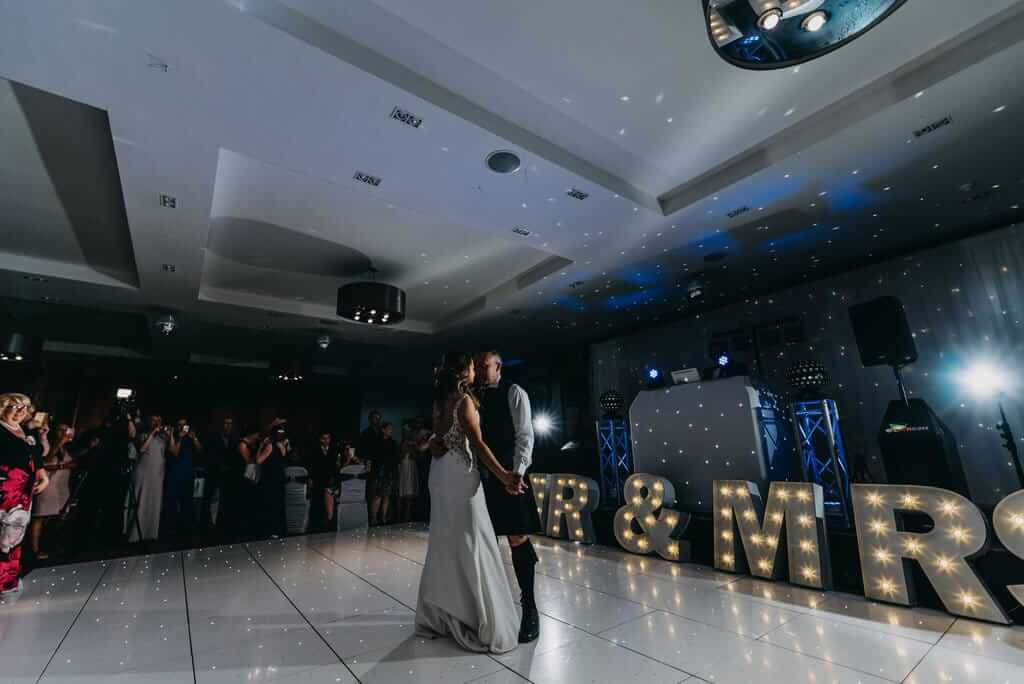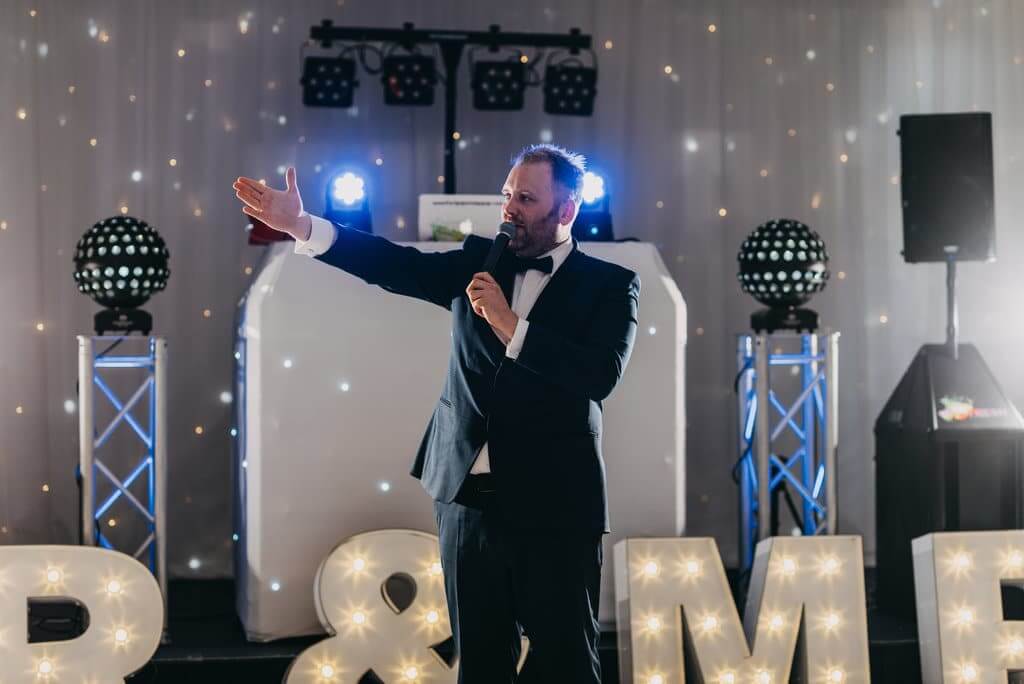 We are a small team of experienced and professional entertainment DJs based near Glasgow, Scotland. We have taken pride in our individuality, customer service, attention to detail and high standard of equipment and entertainment for many years. We will continue to exceed what we set out to do way back in 2010.
We refer to ourselves as entertainers, as we are fun and interactive hosts – not just DJs, but of course, we primarily play the music you want to hear.
"Would like to thank Fresh Entertainments again for the fantastic service provided. Any questions we had were answered promptly nothing was too much for them. A great DJ from start to finish! Loved the short video Robert made of our evening especially as we weren't expecting it at all :)! Robert interacted with our guests and I must say the dance-off and the sing off was a massive hit! The entertainment makes a wedding and I'm glad to say us and our guests had the best time at our wedding reception. Thanks again to you all . Love Mr & Mrs Pearson"
You are in safe hands! Fresh Entertainments are a multi award-nominated entertainments company, having been finalists in the VOWS Awards, the highest regarded wedding awards in Scotland from 2013 until 2019 in the "Musicians & Entertainers" and "Wedding DJ" categories.
We were also finalists in the Scottish Wedding Awards 2015, 2017 & 2018 in "Wedding Entertainment of the Year."
The prestigious Event Entertainment Awards awarded us a "Highly Commended" and "Wedding DJ" in the 2019 awards.
We were awarded the Scottish Wedding DJ of the year for 2021/2022 with the Scotland Prestige Awards.
AND
For 2022, we are finalists in the Your Scottish Wedding Awards Music category
Only the best wedding DJ entertainers will host your special event, and we all have many years of entertaining experience, so you know no matter who your entertainer is, you will have the time of your life! We have worked alongside some fantastic suppliers and at some of the best wedding venues in the country. 
Excellent and Definitely Recommended!!! The initial booking went very smoothly once we touched base with Stuart, he was there to support and reassure us for our big day. Leading up to the wedding, he kept us in the loop re anything specific we had to do i.e. keep updating our online planner etc. The planner itself was a very handy tool, just answer the questions and give the relevant info and job all done! The day itself went very quickly however the initial day time (ceremony) setup was very clean, small and discrete (as we were initially worries the day equipment would be too big), this tuned out to be ideal but certainly packs a good clear sound (not too loud thought). Following the ceremony, Stuart swapped the booth around to a larger booth with more speakers and lights - this was a great experience for us both along with the quests. In addition, Fresh Entertainments also provided a Saxophone combo - this was phenomenal with everyone up dancing on the dancefloor - a very good performance indeed! Overall, we were both extremely happy with the outcome of the day and night with the DJ and Saxophone package - we are still getting comments of how good this was 1 week later!!
Hosted our wedding reception and was amazing! 10/10!!! We cannot recommend Stuart and Fresh Events enough!
Jodie Pilkington
2022-08-29
Stuart was absolutely fantastic!! He ensured all our needs were met and that we enjoyed every inch of our reception. He was amazing from start to finish and we could not have asked for anything more from our wedding entertainment. He was entertaining, engaging and knows how to get a crowd going. We had the saxophone package and it was the cherry on top of an amazing cake!!! I'm addition, Stuart took the time to create a video montage of lots of the best bits of the evening and it was really an extra special touch that he went to that much effort for us to remember our special day. I would 100% recommend Fresh Entertainments to anyone who asked (I have already started). We would do it all over again in a heartbeat and wouldn't change a thing. Thank you so much! X
best Wedding DJ in Scotland 10/10 made our night amazing and super interactive! Worth every single penny m!
Eilidh McAllister
2022-08-10
Stuart and Robert were absolutely amazing from start to finish! Always checking in to make sure we were doing okay and making sure we were adding songs to our planner. Robert on the night was absolutely amazing! He read the audience well and managed to have all our guests on the dance floor even my 88year old granny! The dance off has been the highlight of everyone's night 😂 thanks again! 10/10 highly recommend!
We had an amazing night thanks to Stuart and Robert who were great at helping us plan our special day. The party was even more fun than we were expecting 🙂
Craig Davidson
2022-08-03
Fresh Entertainments were our DJs for our wedding. They were excellent. We had a lot of requests and were worried these would not be played. We needn't have worried, as the majority were, plus some extra special songs picked by the Robert's.
Madelene Nicolas
2022-07-20
Stuart turned the party into a huge success!! Their collaboration skills and webpage made planning a dream. Nothing was ever a problem and they made things happen with short notice and everything in a casual but still in a super professional way. Big hit to let my husband DJ, making him the happiest 😀 And Konrad, what a 'level-up' you brought! Thank you both so so much!
Maurica Forster
2022-07-18
Just wanted to say a massive thank you to Robert Superstar DJ 😆 who was the DJ for our wedding at the Carlton Hotel he made it a cracking night. Honestly cannot thank him enough for everything he done. The atmosphere was amazing throughout the entire night, we were on the dance floor the majority of the night. The sing off and dance off were epic (especially since me and my new hubby are so competitive) everyone keeps talking about it 😆 Thanks again, cannot recommend him enough thank you for adding that extra wow factor to our wedding 😊
The best night. A perfect party for a perfect day. All our guests loved the music and vibe. The dance floor was full at all times. Superb. 5 STARS.

To ensure that everyone at your wedding has a fantastic time, we work with you from the very beginning with careful planning, communication and using our expertise and knowledge to read your dance floor and play the right blend of music to make sure that everyone will be dancing until the end of your evening.
Your wedding is a big, BIG deal! No matter which package you like, let's have a friendly chat. Contact us to have a conversation, and we'll start talking about how Fresh Entertainments can make your wedding the best one that you have ever been to, your own!
"Everything with fresh was so amazing. From start to finish the process was so easy. Being super stressed with planning a wedding in less than 14 weeks, the music seemed to sort it self out. Nothing was too much of a hassle and it was just the easiest most relaxed experience. I couldn't recommend fresh entertainment enough. Everyone from the guys emailing me to the Dj were just perfect. They took a little bit of stress away from me which was so helpful and so appreciated. Thank you so much everyone at fresh entertainment. Our Dj deserves to be noticed for such an amazing wedding. He was super friendly and just a really lovely person, it I used your services again is hope to get a Dj just as good."
"Robert was brilliant from start to finish. From the planning phase he was great in helping plan the DJ entertainment, helping to come up with song choice and entertainment ideas. During the event he really got the party going, knowing what song to play and when. Also threw in a few games too. We would thoroughly would recommend Fresh Entertainments for anyone's wedding. A fantastically positive team who really make an extra effort for your wedding."
The main thing we provide you with is peace of mind which is essential for the enjoyment of planning your wedding right up until the end of your celebrations. We only provide the best wedding DJ entertainers to host your special event and we all have many years of entertaining experience so you know no matter who your entertainer is, you will have the time of your life! In all the years of entertaining at weddings and other events, we have worked alongside some amazing suppliers and at some of the best wedding venues in the country. Please click the following links to be taken to our wedding supplier friends and wedding venues.
PLI Certificate & Covid-19 Risk Assessment