About Fresh Entertainments
Here you can find out about us here at Fresh Entertainments and why we should be the first choice for your special day for your wedding entertainment.
Every cherished moment at your wedding should be unique, memorable and most importantly, FUN! Our number one goal for your wedding is to make you and your guests have one of the most unique and elegant nights of your and their lives. The focus is solely on your beautiful moment and creating memories and stories that will be told for years!
All weddings and events need quality entertainment so that you and your guests all have a memorable time, for the right reasons.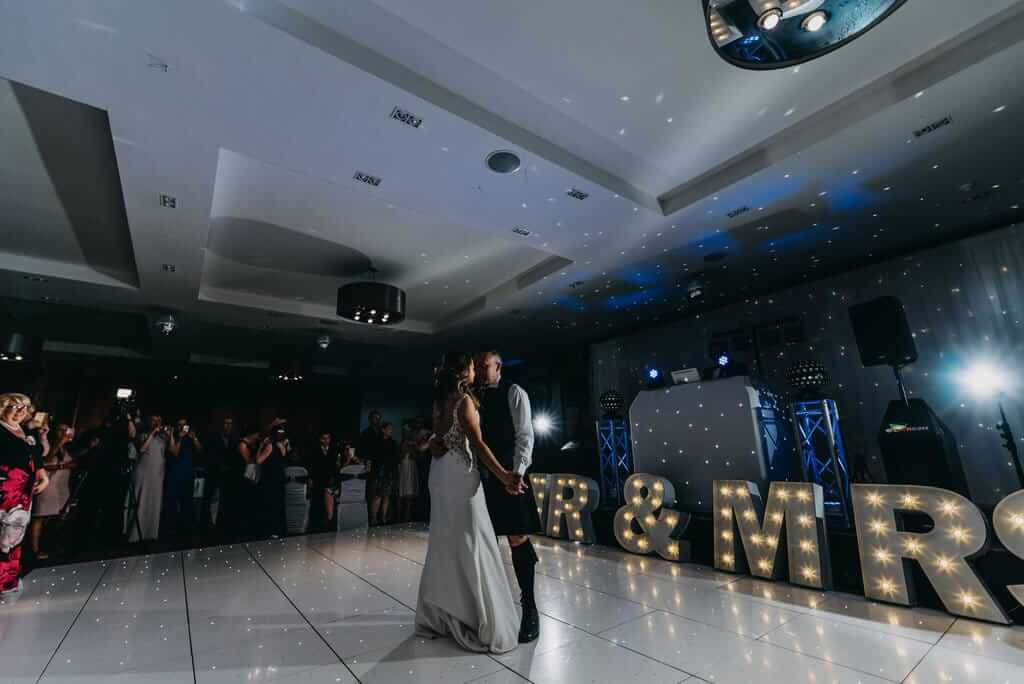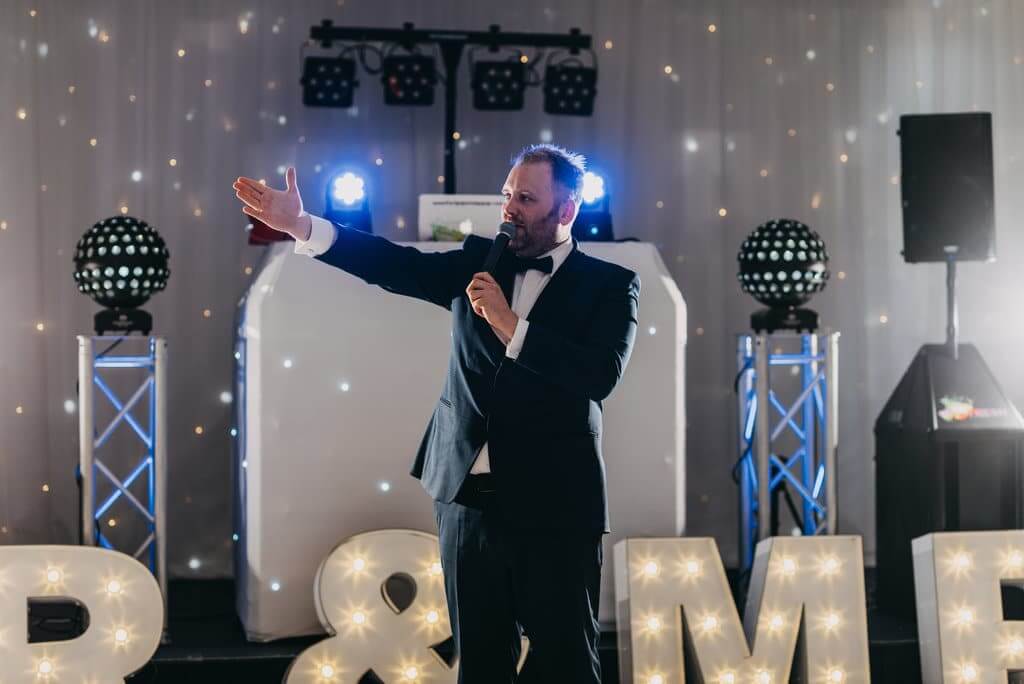 We are a small team of experienced and professional entertainment DJs based near Glasgow, Scotland. We have taken pride in our individuality, customer service, attention to detail and high standard of equipment and entertainment for many years. We will continue to exceed what we set out to do way back in 2010.
We refer to ourselves as entertainers, as we are fun and interactive hosts – not just DJs, but of course, we primarily play the music you want to hear.
"Would like to thank Fresh Entertainments again for the fantastic service provided. Any questions we had were answered promptly nothing was too much for them. A great DJ from start to finish! Loved the short video Robert made of our evening especially as we weren't expecting it at all :)! Robert interacted with our guests and I must say the dance-off and the sing off was a massive hit! The entertainment makes a wedding and I'm glad to say us and our guests had the best time at our wedding reception. Thanks again to you all . Love Mr & Mrs Pearson"
You are in safe hands! Fresh Entertainments are a multi award-nominated entertainments company, having been finalists in the VOWS Awards, the highest regarded wedding awards in Scotland from 2013 until 2019 in the "Musicians & Entertainers" and "Wedding DJ" categories.
We were also finalists in the Scottish Wedding Awards 2015, 2017 & 2018 in "Wedding Entertainment of the Year."
The prestigious Event Entertainment Awards awarded us a "Highly Commended" and "Wedding DJ" in the 2019 awards.
We were awarded the Scottish Wedding DJ of the year for 2021/2022 with the Scotland Prestige Awards.
Only the best wedding DJ entertainers will host your special event, and we all have many years of entertaining experience, so you know no matter who your entertainer is, you will have the time of your life! We have worked alongside some fantastic suppliers and at some of the best wedding venues in the country. 
Utterly brilliant wedding DJ. Super easy to book, great value, brilliant customer service throughout the whole process (including multiple reschedules!) then an absolute fantastic night. Dancefloor was jumping and everyone had an absolute ball!
From the moment we first contacted Fresh, Stuart could not be more helpful and passionate about giving us the best experience for our big day! From our initial meeting we felt confident in their ability to put on a party and Stuart made us feel so at ease. When we first spoke to our DJ for the night, Robert, this feeling was echoed. It is clear that they both love what they do and are eager to give their couples their dream day! We were comfortable to leave entertainment in their hands and have no regrets. If we were to do our wedding over, Fresh would be one of our first calls to rebook! Thank you!!
From booking to event, what a flawless experience. The information pack first provided gives you clear costs & the experience you'll receive which did to waver on the day! We booked the saxophonist & DJ pack & it was a fun filled packed out evening which didn't disappoint! Stuart (DJ) doing a DJ battle with the bride & groom was amazing, even doing a dance off between the guests which everyone loved! He interacted with the guests all evening which really helped put everyone at ease & get up & dance! Honestly can't thank Fresh Entertainment & Stuart enough for their help & the experience they've provided for us. It's the wedding we wanted & they certainly delivered!
Stuart made the whole process so easy and stress free, from our first enquiry to the wedding itself. He did such a great job of interacting with all our guests and created the best atmosphere throughout the day. So many of our guests commented on how brilliant Stuart was and how much they enjoyed the evening. We genuinely couldn't have asked for a better dj!
So many of our guests commented on how relaxed we were at our wedding and I think that is in part to how Fresh Entertainment just took control and allowed us to just get on with enjoying our day. From filling in the form to the initial consultation on zoom to follow up phone calls, the web app and everything in between, Fresh Entertainment made planning the entertainment for our wedding so personal and so simple. Booking was straightforward the online planner made choosing requests a breeze, and the information that we got from both the website and Stuart himself, was top notch. We felt so informed and so confident going into the wedding and this meant we had no worries about the entertainment on the day. The setup was seamless, the choice of music was totally on point and the extra touches that Fresh Entertainment provided, like the dancing in the clouds, selfie station and tomfoolery box, were brilliant. Stuart was really interactive, making sure that there were no awkward silences or lulls on the dance floor. He created additional games like a look-alike competition and a DJ battle between myself and Amanda that have had people talking about our wedding entertainment weeks later. We can't thank Stuart and Fresh Entertainment enough for making our day so special. Would wholly recommend them for any event. Thank you.
I could not recommend Stuart at Fresh Entertainments - Wedding Entertainment & Event Experts enough, we went for the full day package at Lews Castle, and he delivered, start to finish. He went above and beyond for us to make our day special. Just little things a bride needs, that reassurance and empathy, he communicates so well I was never worried about the music. He listened to us our requests and needs, there was such a mixture that we wanted from old school to club to country and cheesy hits and he just delivered it all. He blended so well with our crowd and EVERYONE talks about our DJ! From special requests, messages from family abroad teaching us dance moves and bride vs groom compos! Just created an amazing atmosphere. I could go on and on about how incredible he is, thank you for helping make our wedding so memorable. I hope we have a chance to see you again !
Natalie Brisci
2022-03-08
5 star service from the first contact with Stuart to the evenings entertainment, he made the whole process so easy and couldn't have got the music more spot on! Highly recommend and will be using again in the future…thanks again!
Stuart was the DJ for our wedding and he helped make the day so fantastic and full of fun! All our guests said it was the best music and entertainment they'd ever known and we definitely agreed. I would highly recommend any to use Fresh Entertainments, you won't be disappointed!
Stuart and the team at Fresh are just the best, they made our special day out of this world would not hesitate in a minute to recommend fresh for anyone's wedding or special day 10 out off 10 Thanks Again 😊
To ensure that everyone at your wedding has a fantastic time, we work with you from the very beginning with careful planning, communication and using our expertise and knowledge to read your dance floor and play the right blend of music to make sure that everyone will be dancing until the end of your evening.
Your wedding is a big, BIG deal! No matter which package you like, let's have a friendly chat. Contact us to have a conversation, and we'll start talking about how Fresh Entertainments can make your wedding the best one that you have ever been to, your own!
"Everything with fresh was so amazing. From start to finish the process was so easy. Being super stressed with planning a wedding in less than 14 weeks, the music seemed to sort it self out. Nothing was too much of a hassle and it was just the easiest most relaxed experience. I couldn't recommend fresh entertainment enough. Everyone from the guys emailing me to the Dj were just perfect. They took a little bit of stress away from me which was so helpful and so appreciated. Thank you so much everyone at fresh entertainment. Our Dj deserves to be noticed for such an amazing wedding. He was super friendly and just a really lovely person, it I used your services again is hope to get a Dj just as good."
"Robert was brilliant from start to finish. From the planning phase he was great in helping plan the DJ entertainment, helping to come up with song choice and entertainment ideas. During the event he really got the party going, knowing what song to play and when. Also threw in a few games too. We would thoroughly would recommend Fresh Entertainments for anyone's wedding. A fantastically positive team who really make an extra effort for your wedding."
The main thing we provide you with is peace of mind which is essential for the enjoyment of planning your wedding right up until the end of your celebrations. We only provide the best wedding DJ entertainers to host your special event and we all have many years of entertaining experience so you know no matter who your entertainer is, you will have the time of your life! In all the years of entertaining at weddings and other events, we have worked alongside some amazing suppliers and at some of the best wedding venues in the country. Please click the following links to be taken to our wedding supplier friends and wedding venues.
PLI Certificate & Covid-19 Risk Assessment