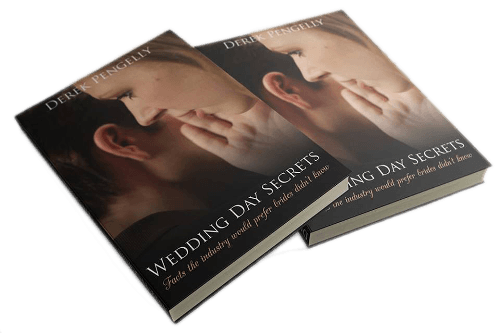 Just for you, Wedding Day Secrets, Facts the industry would prefer brides didn't know, by Derek Pengelly.
It's a daunting task to plan and prepare for this one day and you'll probably spend more on this day than any other in your life!
Wouldn't it be great if there were a guide to help you with the planning of the entertainment for your big day? To give you ideas that you could use, an insight into how to make your wedding day really special…
Many wedding couples have found this free e-book very valuable to help inform them of choices available to them.
Part 1: Dreams into Reality
The Best Kept Secret
Your Wedding / Your Way
Top tips for a stress-free wedding day
The Average Wedding
The Party Host
Civil Ceremonies
Civil Partnerships and same-sex marriage
The Venue
Drinks Reception & the Wedding Breakfast
The Wedding Cake
Part 2: The Evening Reception
Get the Party Started
Your First Dance
The Buffet
The Bouquet Toss
Playlists
Questions to ask a Party Host Before You Hire Them
Destination Weddings – Married Abroad
As you will see, wedding entertainment is SO important for the success of your wedding day!
We would LOVE to be part of your wedding day! Fill out our availability checker to see if we are available to make your wedding an amazing success!