---
Frank & Louise
Dumfries House, Ayrshire
"A big thank you to fresh entertainment for making our big day perfect we had Robert as dj what a job he did he was amazing and the mood lighting was excellent and also the photo booth and candy cart our guests loved it all . If anyone is looking for the best book fresh entertainment for the big day trust me they will do you proud"
Caroline & Stuart
Glenbervie House, Larbert
"Finally recovered from all the dancing at our wedding on Friday!! We had an absolute ball, our dancefloor was full all night thanks to you and the help of some glow sticks! Thank you so much!!!"
---
LAUREN & ROSS
GLENBERVIE HOUSE, LAMBERT
"Thanks very much Stuart for entertaining us and our guests on our special day. It was a fantastic night with many of our guests commenting on how much they enjoyed the night, the dance floor was always full, credit to you for that. Your attention to detail was fantastic and really appreciated. We would definatley recommend Stuart for any event, should we need a DJ/entertainer again, we will definitely recommend you again. Thanks again Stuart!"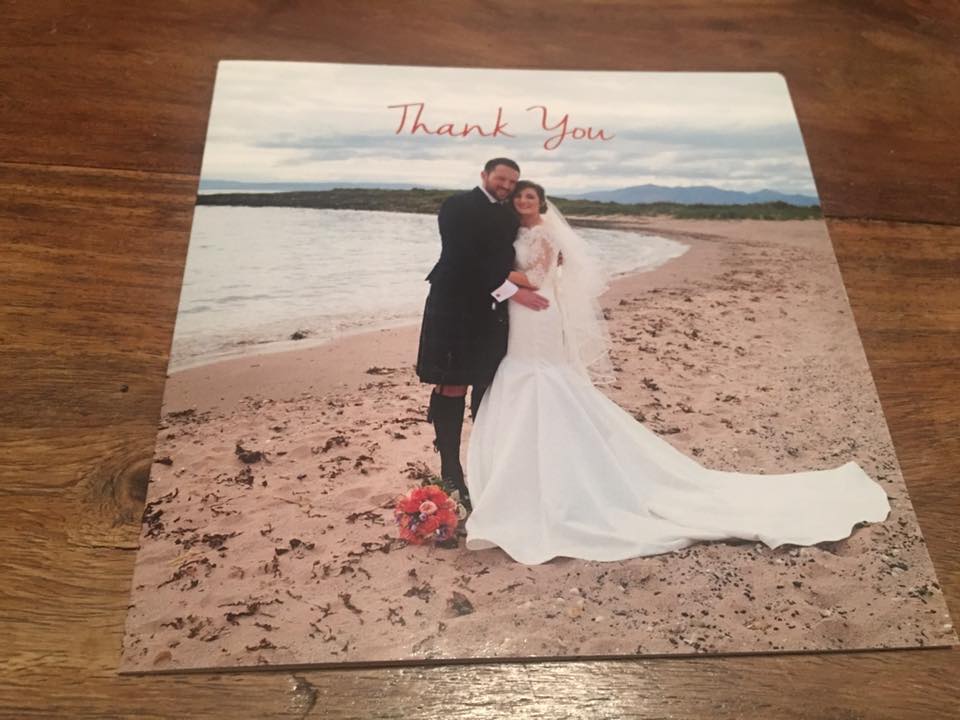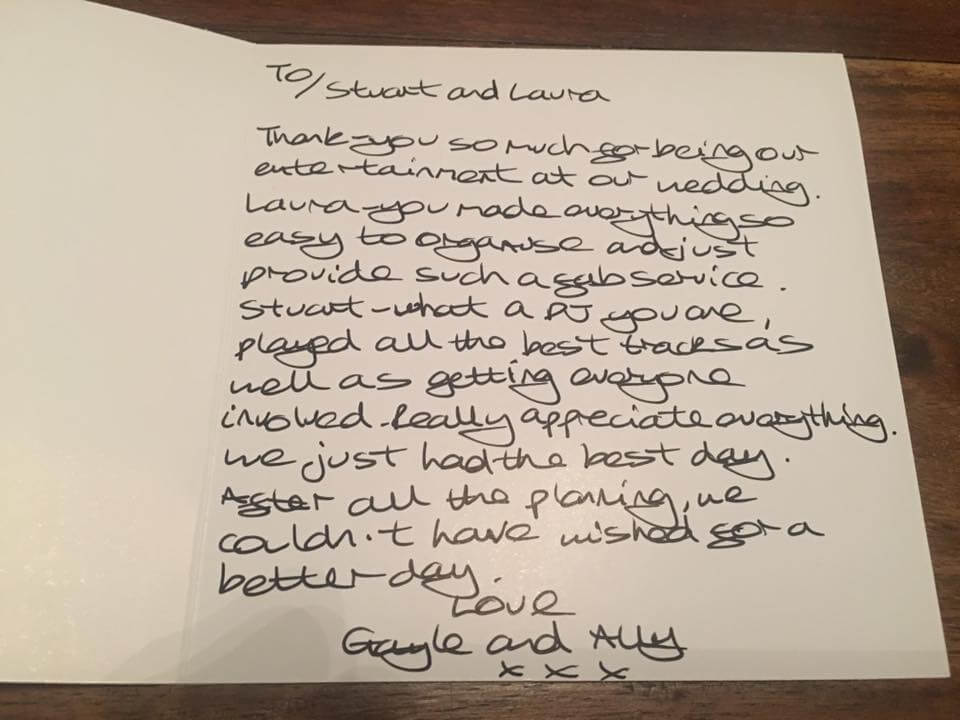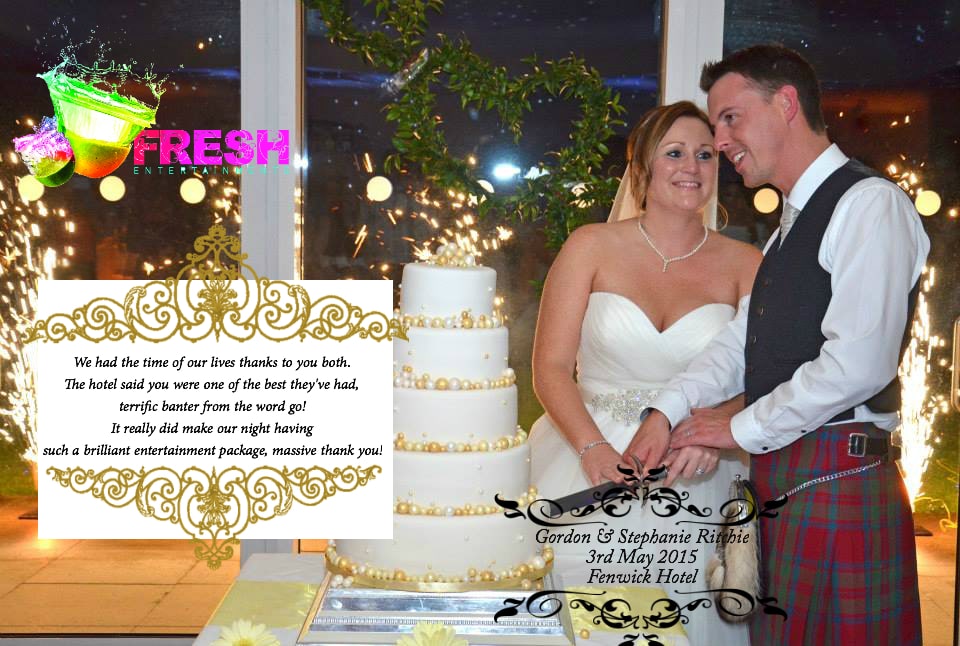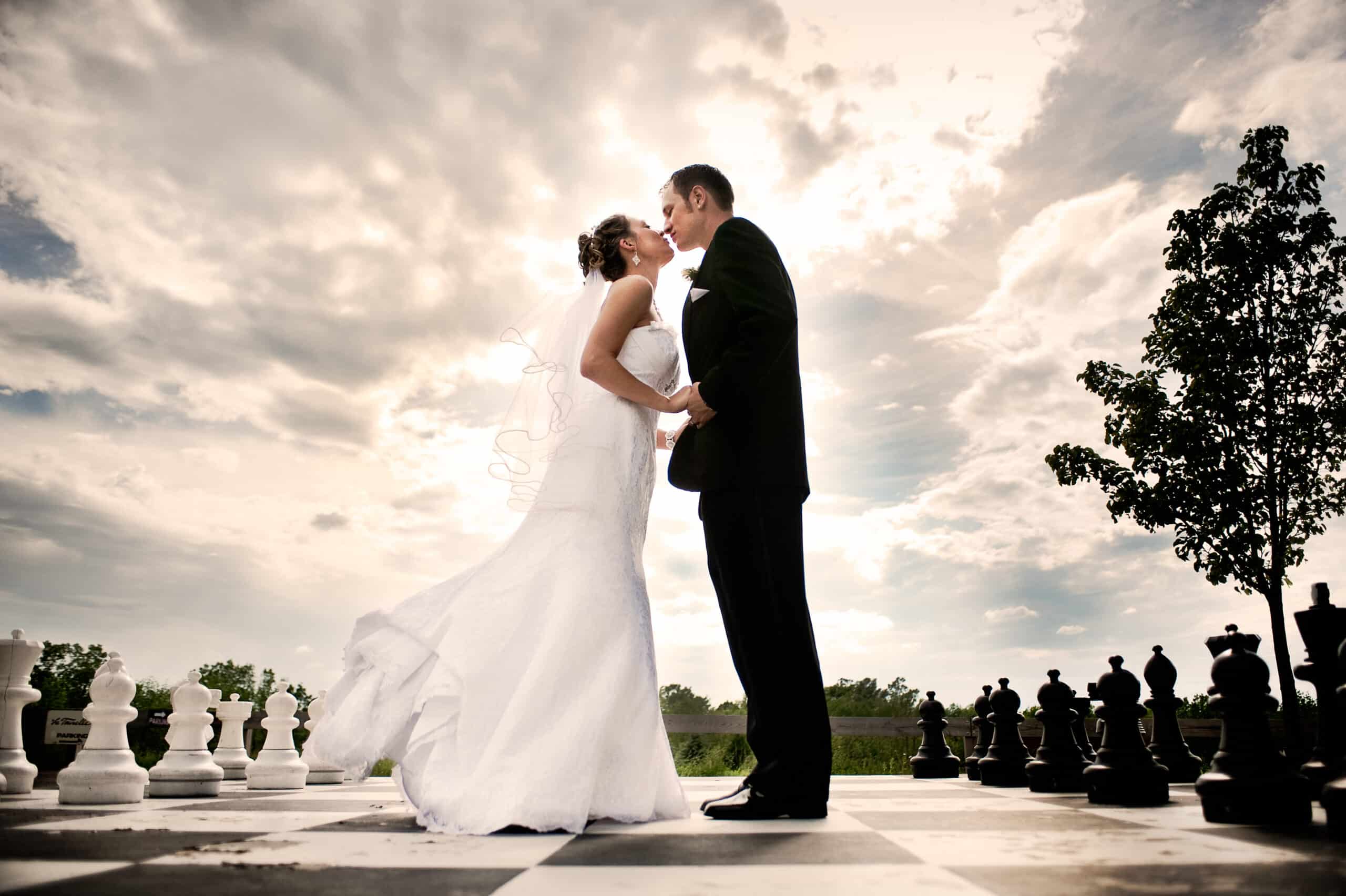 RONA & ANT
Waterside Inn, Inverness
"I just wanted to say thank you so much for doing our wedding, we had an absolutely fantastic evening, combined ceilidh and popular music throughout the night, Everyone we have talked to has said what a great night we had and we know its because of you being there. Dressed smartly and professional, and immediately at ease as soon as you introduced yourself, Thank you so much for helping to make our day as perfect as we imagined it!"
Stephen & Jane
Cottiers, Glasgow
"The dust has settled, the wedding dress hung up (with full intention to get it dry cleaned at some point!), the cards are away and the Thank you cards going out and the Photos have just arrived and all everyone is still going on about is how good the night and how good the DJ was! Initially we were going to go for a band but are so very glad we never and opted for the best DJ in the UK. Nothing was too much, all requests played and then there were games and getting the crowd involved then a giant Conga line! Planning the wedding was made a lot easier by the online planner, Jane and I spent a few nights going through the playlist choosing and re-choosing song after song to be played, even requesting some random tunes you didn't have but got for us! The London Boys were awesome! If only we had learnt the dance moves lol! I can't thank you enough for such a great night and dealing with our drunken friends and family (namely Mrs Clark! lol) Looking though the pictures last night, Jane and I looked at each other and pretty much at the same time said I wish we could do it all over again!! Thank you! Mr & Mrs McPhail."
Natalie & Allan
Sloans, Glasgow
"Allan and I would just like to thank you for yesterday. You done a sterling job!! Everyone we spoke to commented on how good you were and what a fantastic day and night it was."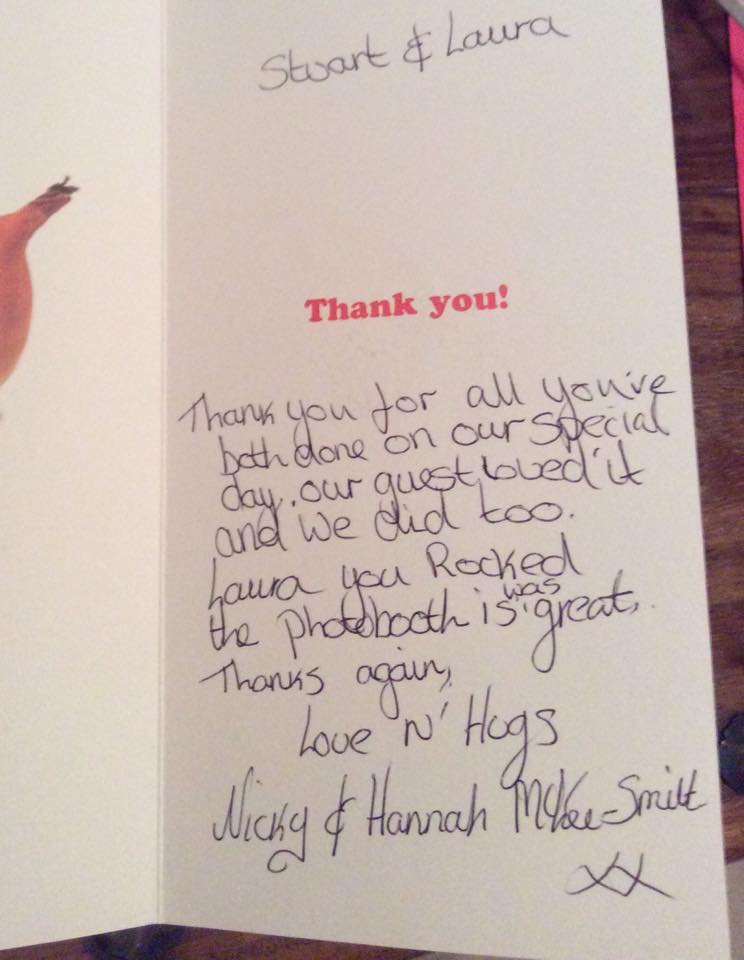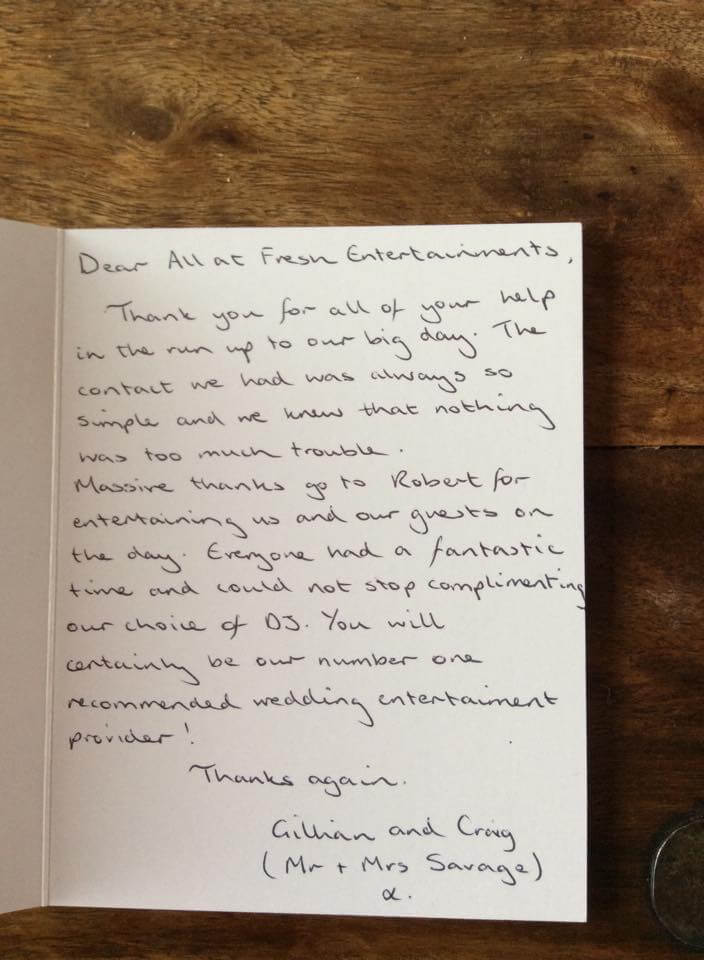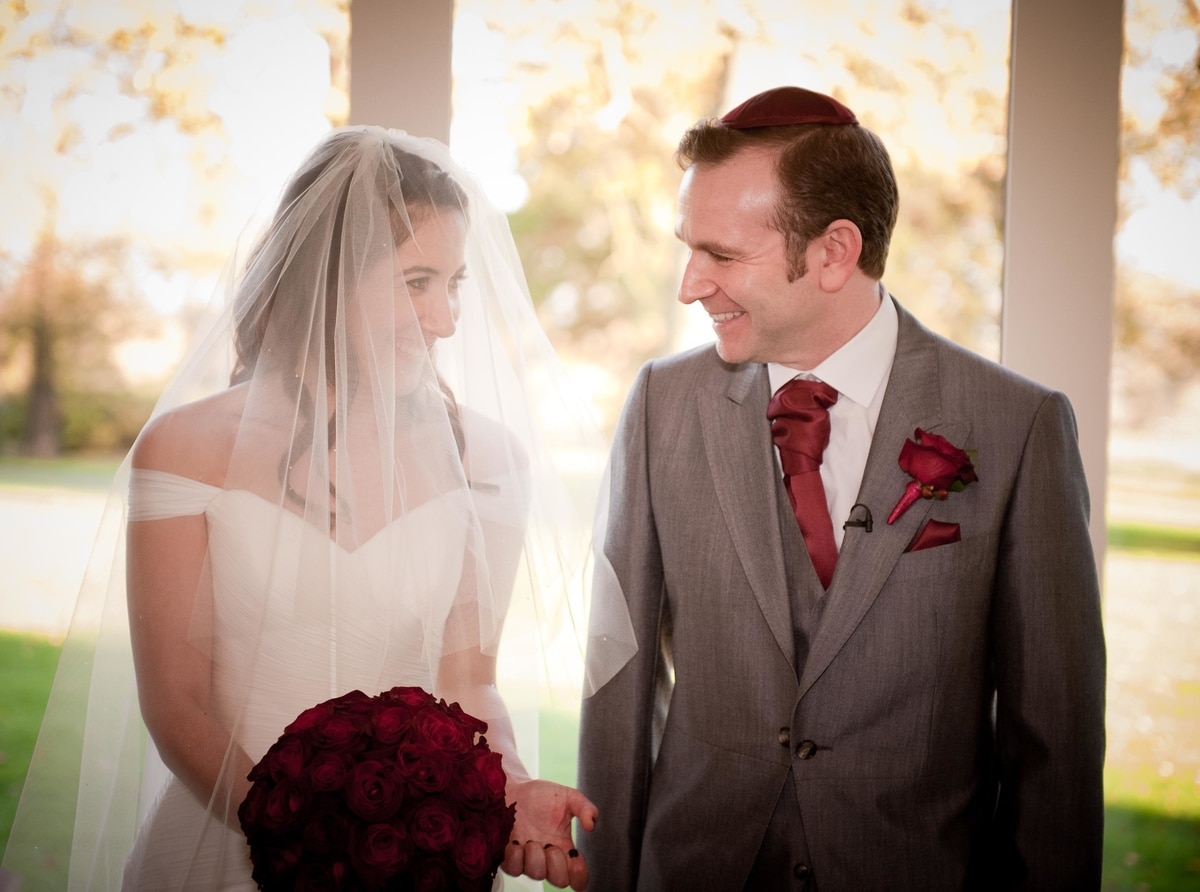 Gillian & Scott
Barony Castle, Peebles
"Sorry for not replying sooner, been busy getting settled into married life. Our wedding was the best day ever, we loved every minute! Thank you so much for entertaining us, loved the online planner so we could request songs prior to the evening which meant more time for dancing, which we did all night! An extra thank you from my mum for playing "call me maybe" twice because she missed it the first time! Ha. Everyone commented on how great a night it was and quote from one of my bridesmaids the next day was "Your DJ was brill, music was gid and his banter was awesome".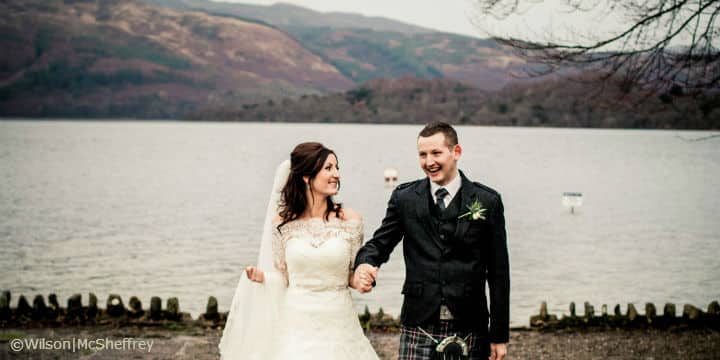 ---
Craig & Tracey
Piersland Hotel, Troon
"Thank you so much for your kind words, we are both really glad that you enjoyed the evening.
We really could not have asked for anything more on Saturday night, you definitely made our night for us! Music is really important to us both and I suppose contributed a lot to how we actually got together, this is why we chose to hire a DJ as opposed to a band.
You certainly honoured all of our requests and kept the dance floor alive all night, we have had lots of comments from our guests who were all as equally impressed as us.
The requested 'mini rave' was fantastic and the opportunity to get the glow sticks out was the icing on the cake for us.
We cannot thank you enough and we hope that we come across you again one day in the future, we will definitely be recommending your services whenever we can.
We have completed a VOWS nomination form for yourself along with the Piersland Hotel who also provided us with an excellent service.
Thank you for making our wedding so special :)"
Robert & Vicky
Burnhouse Manor, Ayrshire
"Stuart is simply an outstanding host for your event.
Absolutely delighted we had him at our event all day and such is his professionalism and friendliness he felt more like a guest than someone we had hired.
Everything we asked of him was never any problem and his positive party attitude just finished off our preparations for a fantastic relaxed party to celebrate our marriage.
We also thoroughly recommend his additional services of the moodlighting and all day hosting. The additional cost may seem a lot but given he was there for the best part of 14 hours on the day shows how much he will give you back to make sure your day works.
The after event comments we have had from our guests have been nothing but positive and when was the last time someone didn't complain about your DJ be it music too loud, wrong music, lighting was poor etc etc etc. To have had not one single comment along these lines is complete testament to Stuart and his drive to make your day special"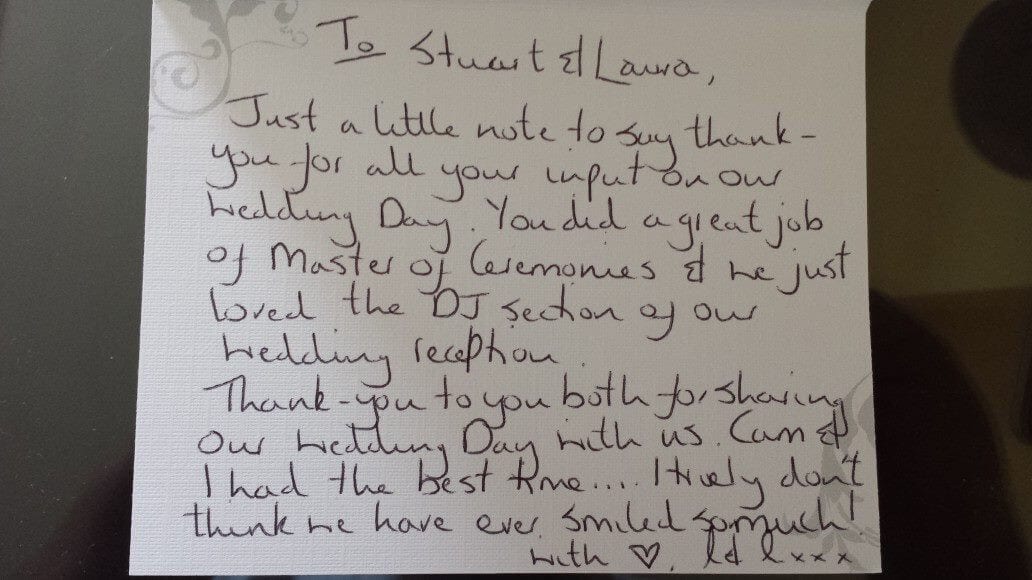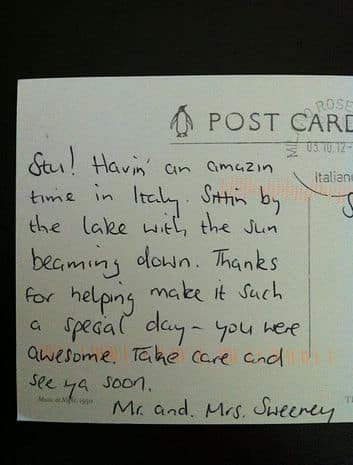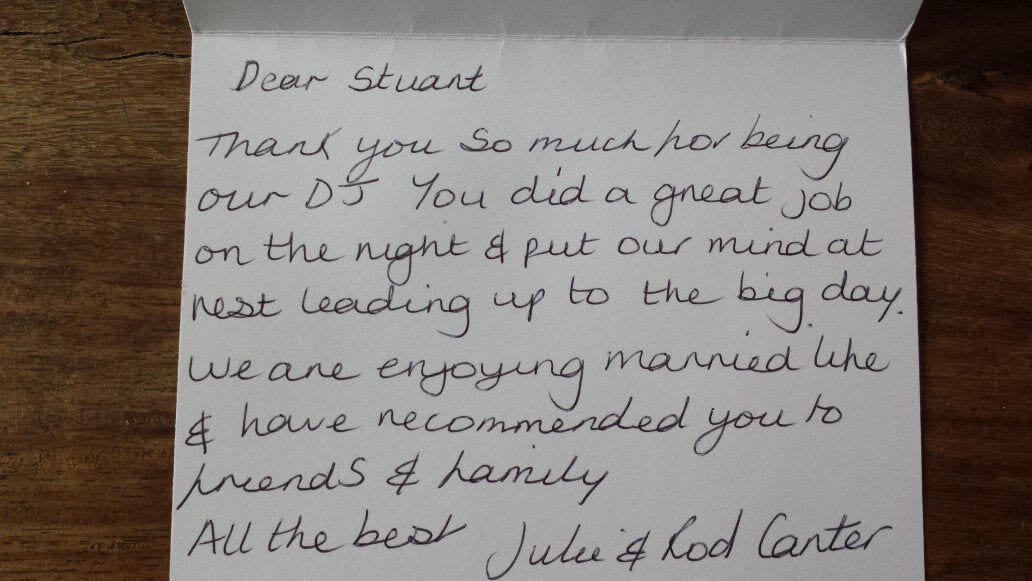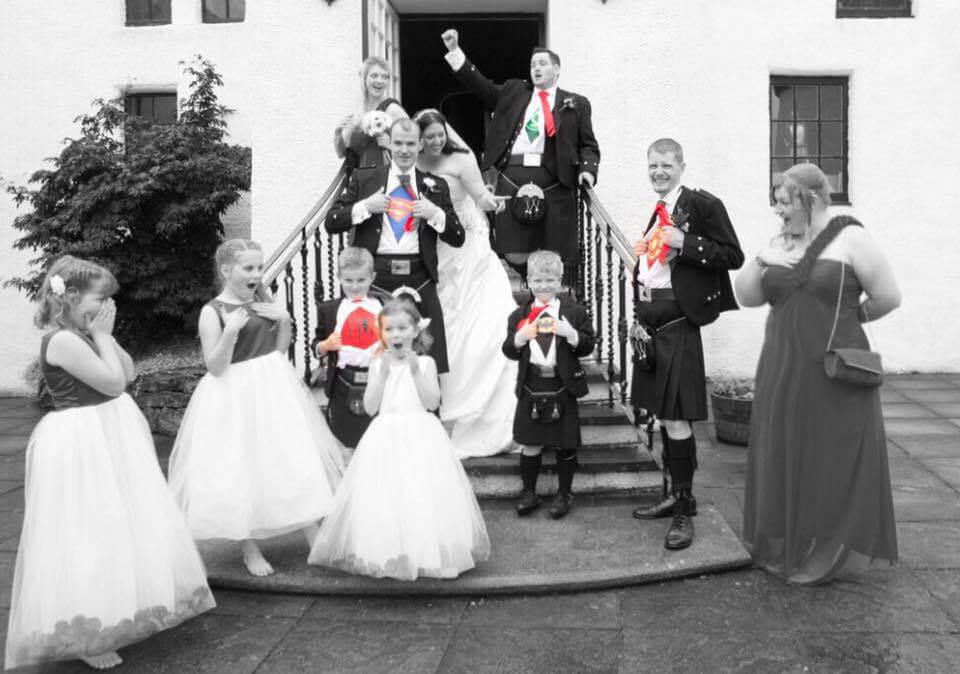 Kirsten & John
Maryculter House, Aberdeen
"We would recommend Fresh Entertainments in a heartbeat to everybody! We had Robert for our wedding the whole day and it was the best experience! Online planning for the wedding was our first experience, and a brilliant one. Constant communication from Laura whenever we needed it, and for things we forgot about! Robert involved everyone at all points of the day, from getting everyone on their feet waving their napkins at the meal to 'That's Amore' to a Bride's side and Groom's side sing and dance off during the night! He helped the photographers during the day for finding everyone they needed, he made sure we were informed and calm all through the day. The mood lighting was amazing and everything we wanted happened! The added extra of glow sticks for everyone and sweets for the kids was just the little touches that made it perfect and unexpectedly going the extra mile:) We will never forget our perfect day, made even more amazing by Robert! Thank you so much, you are all amazing!"
Sarah & Stuart
Lodge on Loch Lomond
"We booked Stuart to DJ at our wedding in March 2015. We had such a fantastic night and Stuart was so professional and fun, exactly what we wanted. More than a DJ just playing some tunes, Stuart hosted the night and made it an event. He spent time getting to know us before the big day and made music choices that we hadn't spoken about and it worked perfectly. In fact playing Frozen for my 2 year old flowergirl is one of our biggest highlights from the entire day. It was perfect for us. Stuart only knew that from the commitment he made to getting to know us before hand. It was fantastic and we are so glad you were part of our day. Thank you and we will recommend you to anyone looking for a DJ in the future!"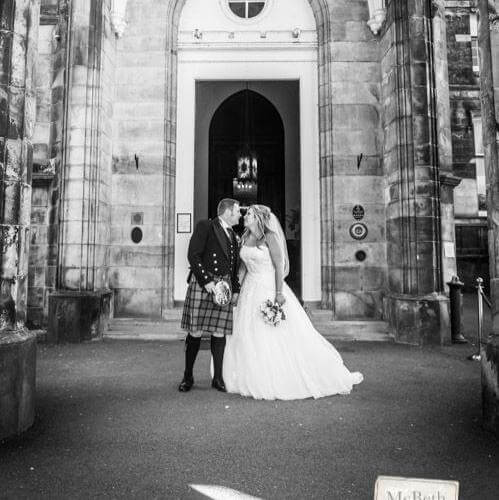 Leanne & Alastair
Mar Hall, Bishopton
"Thank you so much Stuart for providing the entertainment for the biggest day of our lives! We absolutely loved our day and you had a bid part to play in that. We have had many people comment on the entertainment and it seems that everyone had as much of a ball as we did! Thank you again".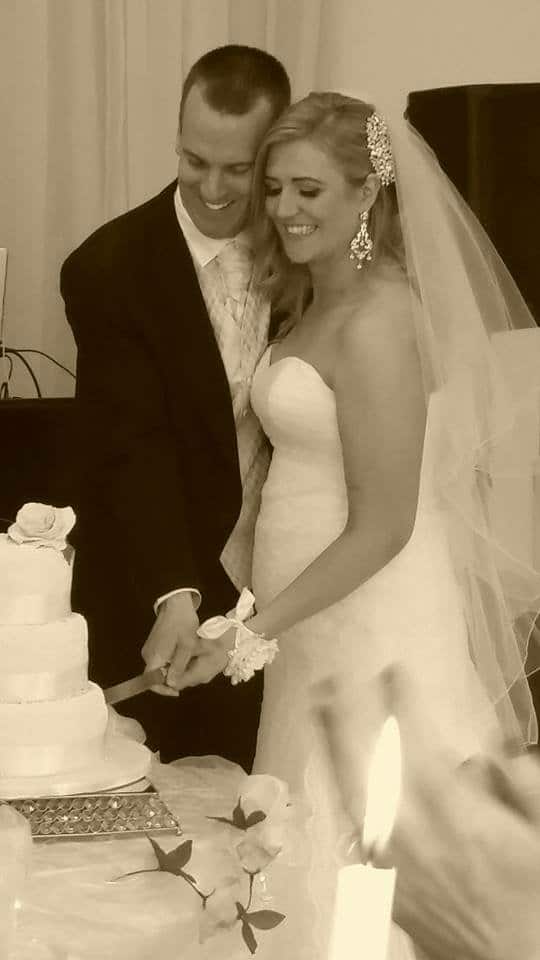 KELLY & STUART
AVONBRIDGE HOTEL, HAMILTON
---
"Hi Stuart just wanted to say that you were an absolute star at mine and Stuart's wedding. All the wee twists and turns like the sing off, celeb lookalike, that's amore etc etc were absolutely brilliant. I'm still getting messages now about how good the entertainment was. Infact the Avonbridge have asked for your card so they can recommend you to any future couples getting married. They thought u were fantastic and they had never seen anything like it so huge well done to you and once again thank you so much for making our day so special"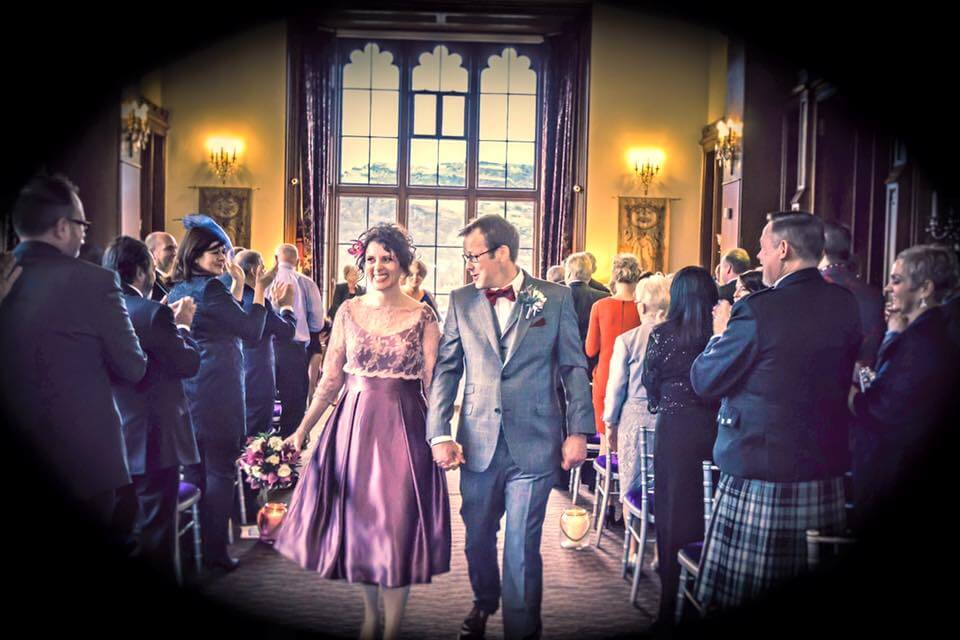 SHIRLEY & KURT
MAR HALL, BISHOPTON
---
"We deliberated for quite a long time about what kind of music to have at our evening reception, wondering if "just a DJ" would be entertainment enough but not quite being able to agree on what kind of live band might work for everyone. We made a number of enquiries just to ascertain what our options were and from the first contact with Fresh Entertainments, felt confident that we would be in very good hands. Laura was always very quick to respond to any queries or questions and couldn't have been more helpful. Stuart, who was with us on our night, was in touch by phone to get information about our guests so that he could offer a variety of music to cater for all tastes and age groups. It was excellent to be able to request specific songs in advance, all of which he played for us. The dancefloor was full the whole night and Stuart kept a great atmosphere throughout, everyone had a great time and we wouldn't hesitate to recommend Fresh Entertainments to anyone for their event."

FIONA & RUSSELL
POPINJAY HOTEL, LANARK
---
"After considering booking a live band, we opted for Fresh Entertainments after experiencing them at a friends wedding. I didn't think they could surpass our expectations. But they did – with bells on! The photo booth, moodlighting and Stuart's outstanding DJ prowess made our wedding day something that our friends and families are still talking about. Everyone had a blast and comments of 'best wedding ever' were freely rolling off tongues! Book them now…they are a must for a wonderful and memorable day."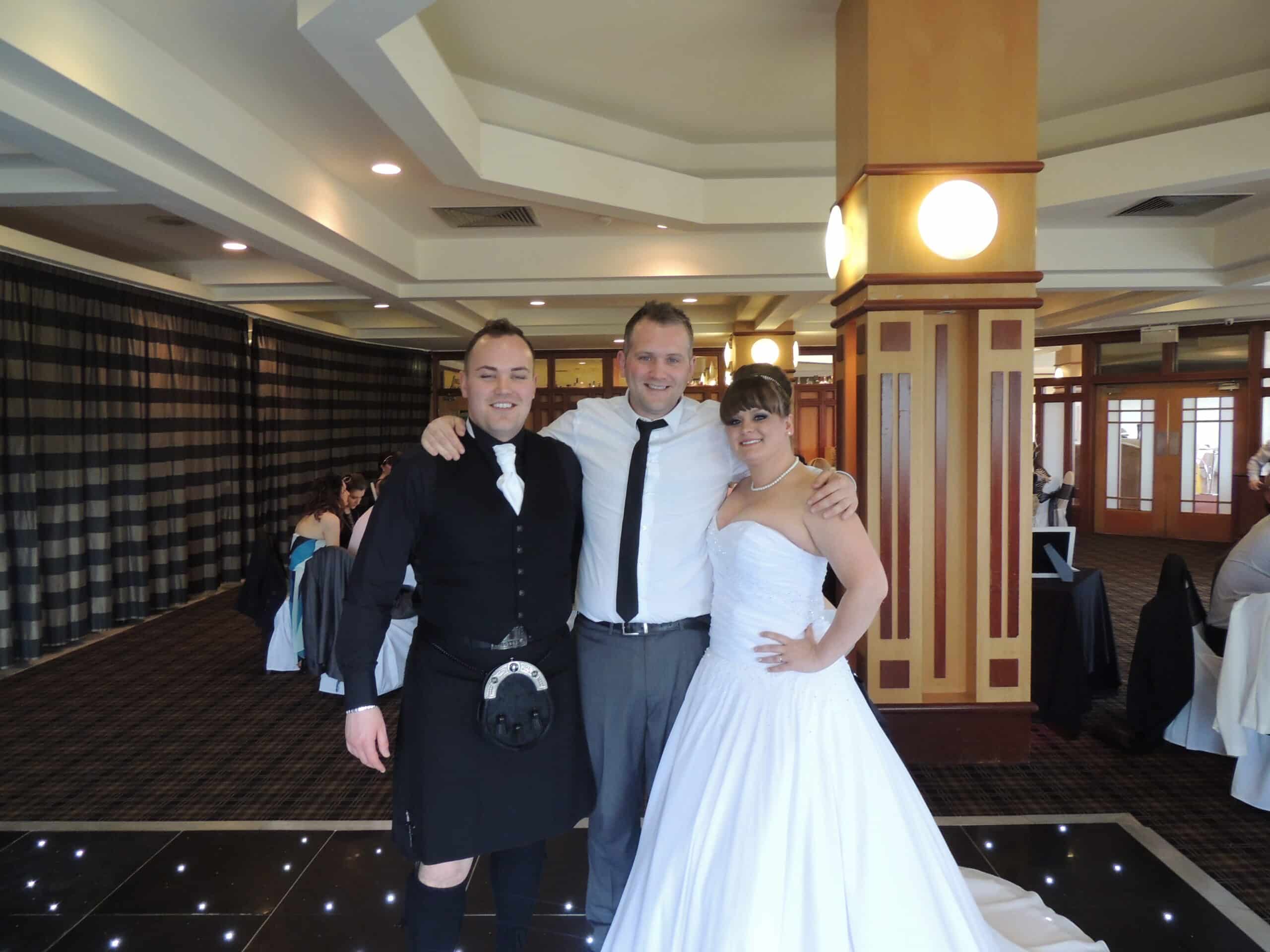 AMANDA & NIK
BEARDMORE HOTEL, CLYDEBANK
Stuart was originally booked for our night time entertainment. After a lot of research and going through local DJ's with a fine tooth comb we were struggling to make a decision. Stuart was recommended to us after we had to post a forum topic on a wedding website as we just couldn't find anyone that appealed to us or looked professional enough.
On seeing Stuart's website we instantly knew that he had to be the one. Everything on his website oozed professionalism and what he was offering in his packages was outstanding compared to other DJ's. Once booked, Stuart provided us with an amazing database to fill in about our wedding and one of many features was our music "must play" and "must not play" lists which was awesome!
Stuart was prompt at replying to every email we sent him and we had some regular meetings before the wedding day as we had some surprises lined up and needed his assistance which he was more than happy to provide. We also informed Stuart that we were struggling to think of a song for our dance with our 1 year old daughter. I told him I had listened to a Michael Bublé song but thought it a bit too upbeat. Stuart immediately let us listen to a song on his phone which was a version of Michael Bublé's Beautiful day that we hadn't heard before. As soon as it started playing we knew that it had to be the one. Our daughter loved it on the day and still has a wee bob about when she hears it in the house.
On the week of the wedding, we also asked Stuart to add on to our package and provide our PA system all day and at such short notice he was able to accommodate us without any hesitation.
Stuart had asked us to provide photos of us over the years growing up and to include guests attending on the day. We provided him with over 350 photos which he arranged into a proper slide show and played at the evening reception which had guests laughing at the good old embarrassing photos from over the years. The slideshow was amazing and I still have friends and family telling me they were surprised to see themselves as part of the slideshow as it was something they did not expect to see and they were thrilled to be up there between the photos of the bride and groom. Stuart also provided us a hard copy of the slideshow on a personalised disk and this has now taken pride of place in our wedding day memory box.
Stuart's set up on the day was absolutely beautiful. The equipment he had that was his DJ booth was so slick and stylish – beautiful to look at unlike other DJ set ups we had seen. The up-lighting around the room was stunning. The glow was so warm around the room making everything feel that bit more intimate. On the day Stuart went above and beyond. He was dressed in a suit looking very dapper but professional! He played background music during our wedding meal with songs fitting exactly to the occasion. At the evening reception he played a few games with our guests which went down an absolute storm and on one of the games it lead to having the full room up at the same time doing a conga around the room – except from the bride as my dress was too big and I was left to conga on the dance floor with my glass of wine!!
We had a varying age range at our wedding from our 1 year old daughter to an 80 year old family member. Just about everyone has commented on the variety of songs that Stuart played at our wedding reception and not one negative comment was received. It is clear that as a professional DJ Stuart was able to read our guests and play music that he knew was fitting to everyone's taste which is extremely important at any function, even more so at a wedding. Stuart also happily took requests throughout the evening from guests, even at the end of the night when the bride requested a final "final" song when the reception had already ended and the lights were up!!
We had done a surprise wedding dance at our evening reception which Stuart had filmed. He then made us a "preview" to watch which was out of this world and made us so excited to see the full length version. The trailer was loved by friends and family on Facebook. Friends that hadn't been to our wedding were anxious about what we had done with numerous comments and texts being received about seeing a full length version. We can't thank Stuart enough for capturing an extremely special memory of our wedding day.
Stuart had also taken photos throughout the evening and on the proceeding days after the wedding, he uploaded them onto our Facebook page which was a delight to look at. Something we had not expected.
It is sometimes true what they say – "you get exactly what you pay for" – I have been to weddings where it is blindingly obvious that the DJ has not been given a good value of the budget or is a "friend of a friend" and it shows in the way the evening runs, in most cases not very well. However, on this case we believe that we got way more than what we ever thought we would. Stuart went absolutely above and beyond to make sure our wedding was one to remember for the rest of our lives and he has provided us with the most amazing ever lasing memories from our special day that we will treasure forever.
We already know we will be booking Stuart again for an event in two years time, no other DJ will ever compare to the quality and professionalism Stuart possesses.
Once again, from the bottom of our hearts, thank you so much for everything.
Love
Mr & Mrs Gallacher…and Abigail x
---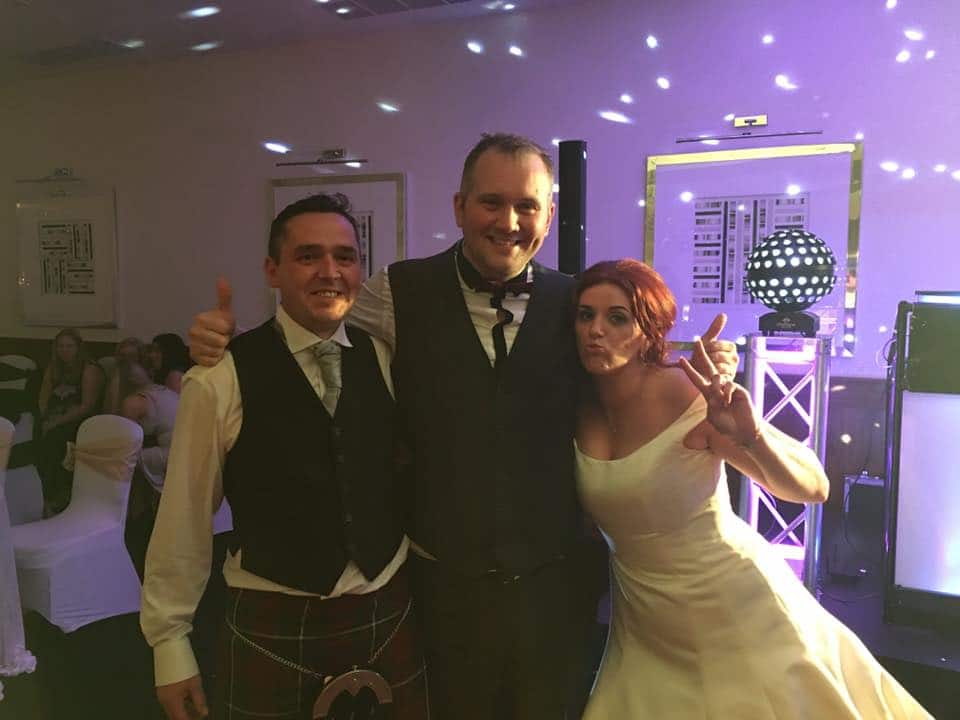 LINSAY & MICHAEL
COLESSIO HOTEL, STIRLING
"What can I say about this fantastic company? Stuart really goes above and beyond to make sure you and your family and friends have the best time ever at a wedding! From my first meeting with him I knew his number one priority was to give me the wedding of my dreams and he certainly delivered! The dance floor wasn't empty once and the atmosphere was electric the whole night! I didn't want it to end. Everyone commented on not only what a fantastic DJ Stuart is but also a really great, friendly guy too. It was apparent to me from day one that Stuart really cares about your wedding and goes above and beyond to make it amazing for you. Special thanks to Laura too for great communication and keeping me up to date with all information! They are a great team. Wouldn't hesitate to book again!!! Now, can we do the wedding again this weekend? Haha… ❤️"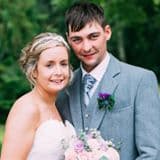 SARAH & CALLUM
KINNETTLES CASTLE, ANGUS
"I'd recommend Fresh Entertainments to everyone ! Great communication from start to finish! They made our day so so special- I didn't want it to end. Big big thank you to you guys again!!!"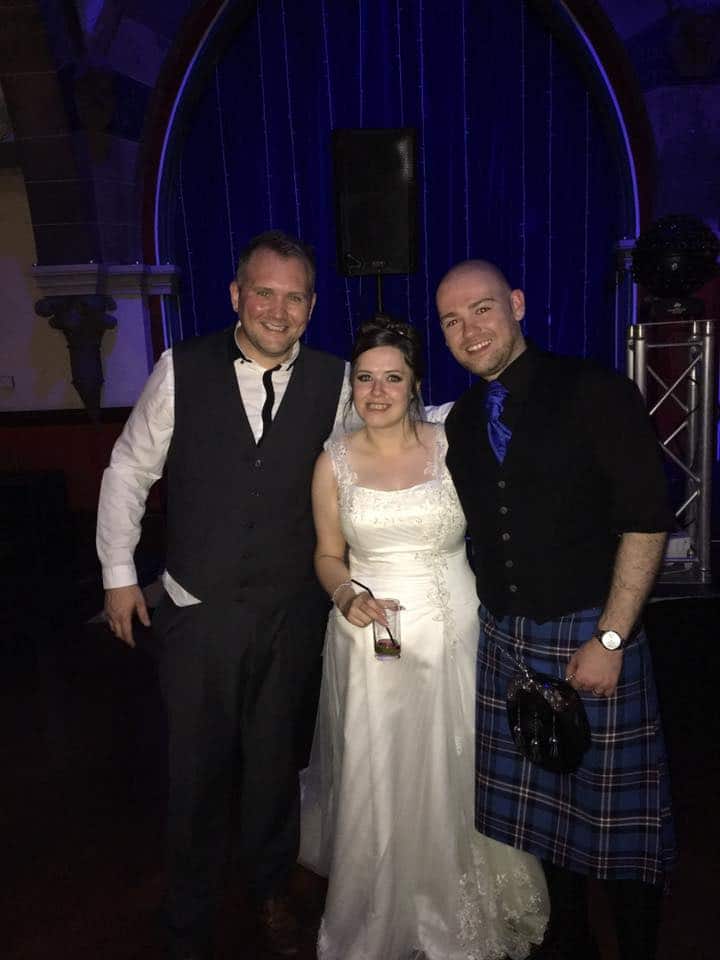 MEGAN & MIKE
ORAN MOR , GLASGOW
"Hi Laura and Stuart,
Thank you so much for all your help and services in the run up to our big day, I can't believe we are a month after now, apologies for the delay, its been mad settling back in from honeymoon.
Onto the day…what a fantastic party! Stuart you were brilliant, the personal touches of the message on the day wishing us well and to say 'see you later' was not only reassuring but honestly stood out to Mike and I as excellent service.
On the night the dance floor was never empty, the comments I received from my guests regarding the mix of music and how accommodating you were with requests was special – nothing worse than unhappy guests! I won't lie, when you told me about sign off I thought that might be a bit cheesy but I was so wrong – it was so much fun, it brought the group together and who knew a bit of competition could spice the night up so much. Our guests have not stopped raving about how funny and fun it was. We have a lot of friends getting married in the next couple years and I really feel this will totally stand out as different to any those weddings.
I know my photographers were very impressed with you also and I believe have sent you on pictures and even asked me to leave you feedback, I don't imagine that happens often! I also know one of my guests was delighted it was you as had seen you at a previous wedding and wanted your details for her upcoming wedding – I'm sure I'll see you there as she said she had been trying to find you ever since 🙂
Overall we had such a great day with the perfect party to end it, so all that's left to say is a massive
Thank You!!
Hopefully see you again soon,
Megan & Mike Doyle"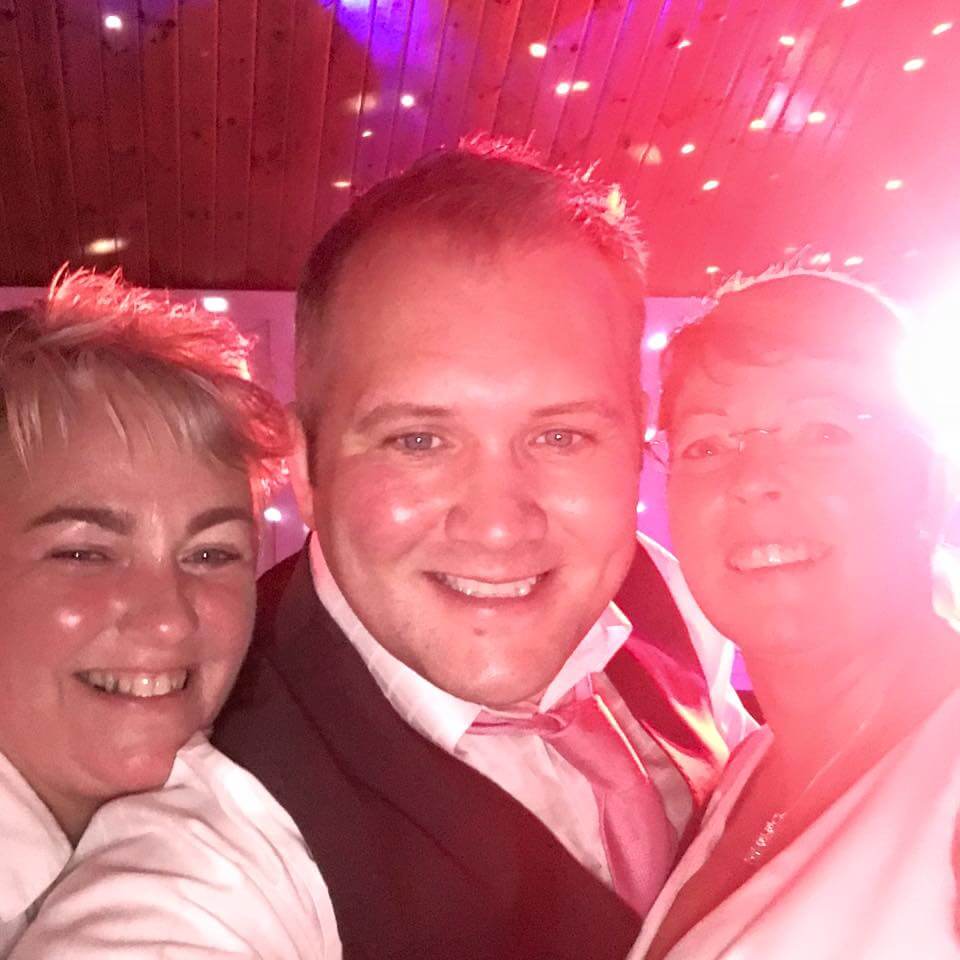 RHONDA & DONNA
THE CRUIN, LOCH LOMOND
"Thank you so much for the fantastic evening entertainment at our wedding at the Cruin in July. You were a true professional from our first meeting.The night went without a hitch,you read our guests well and adapted the music (and games)to suit everyone.We had the most amazing day and night under your direction which was flawless.You set up discreetly,looked very smart for a wedding and entertained us from start to finish.We would recommend fresh entertainment in an instant and you were a fantastic DJ
Rhonda & Donna Campbell Mullen"

AILSA & KEVIN
MACDONALD CORDONA HOTEL, PEEBLES
"Hi Robert, I wanted to say thanks for being the best DJ we could have ever hoped for. You were incredible from the word go. Very very impressive! Kevin and I and our guests all had a ball! Wish we could do it all over again haha x"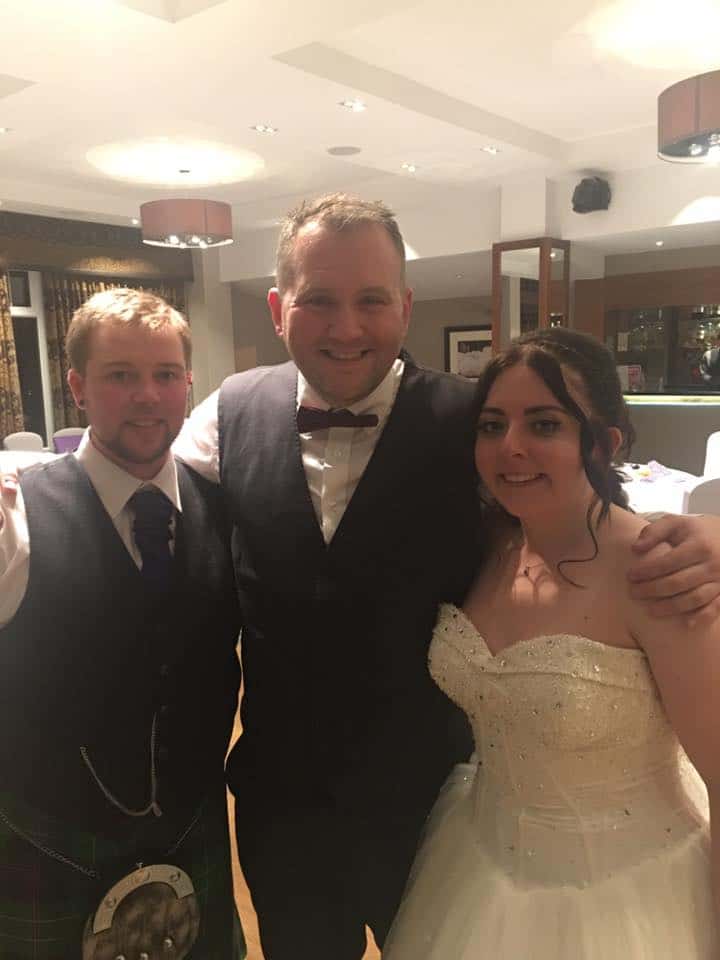 LAUREN & NIALL
LOCHSIDE HOUSE HOTEL,
NEW CUMMNOCK
"Hi Stuart, Thank you very much for such an amazing evening! You were brilliant and everyone had such a great time! Thank you again!X"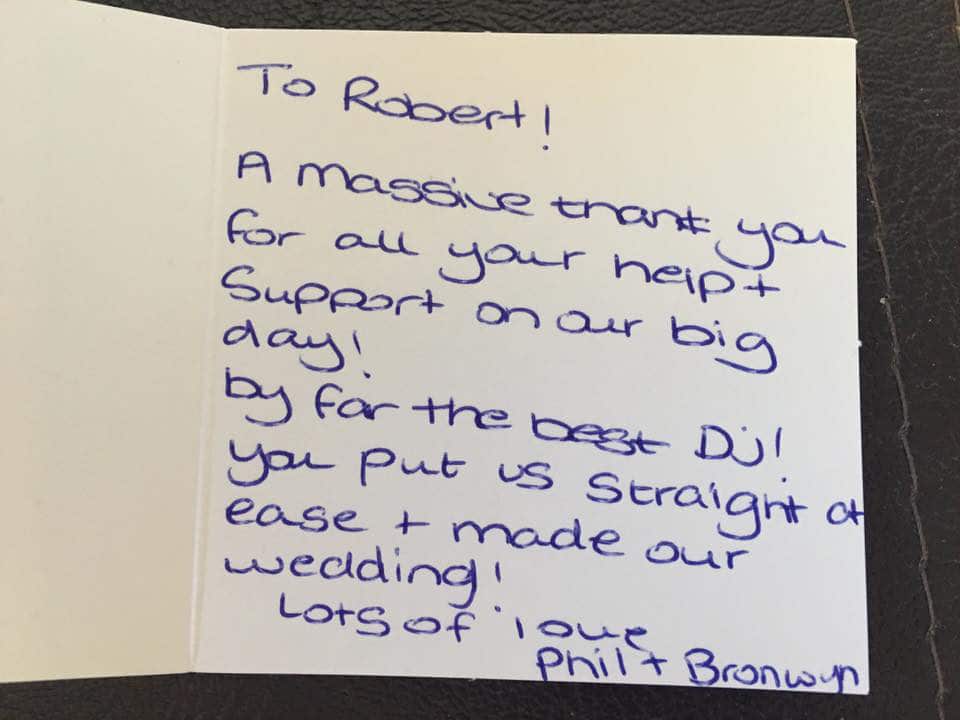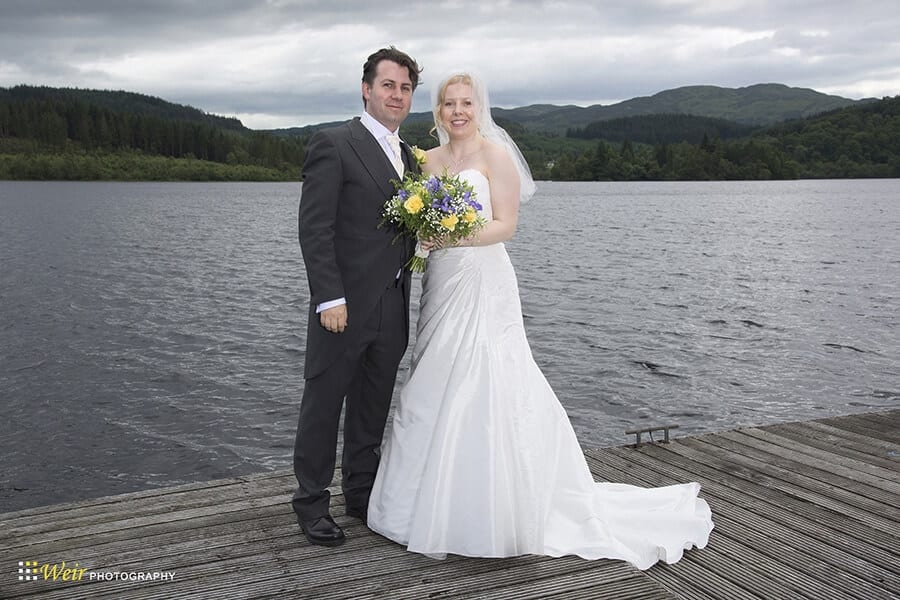 ---
nicola & Darren
forest hills hotel, aberfoyle
"We had such a lovely wedding and Robert was fantastic! He had everyone up dancing, even people who don't normally dance were up! The dance floor was never empty the entire evening and he was more than happy to play requests from the guests.
He got everyone up to do a sing off game to sweet caroline which went down extremely well, everyone got involved and really enjoyed it!
Robert is such a lovely guy and he spent time chatting to us on the Friday finding out what music we liked. He was very understanding when the meal ran over longer than planned and even asked the hotel if he could play a bit longer which was really kind of him and very much appreciated as he didn't need to do that.
Everyone including ourselves had such a wonderful time!
Thank you again so much
Nicola & Darren"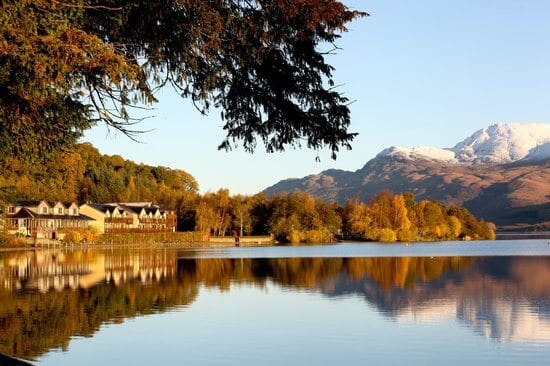 ---
MARTINA & PAUL
LODGE ON LOCH LOMOND
"My wife and I cannot thank you enough for the wonderful night you provided. A professional service from start to finish. Everyone loved it and still comment on how much they enjoyed themselves plus how good your service was. The DJ was amazing, a true entertainer and the booking process was super easy. The communication from the very first email was exceptional very friendly and helpful.
For communication, I cannot give enough praise from this important factor. Having dealt with many wedding providers throughout the planing process I can honestly say you guys set the standard that everyone should aspire to. Every question no matter how small or even silly at some points were answered very promptly and beyond satisfactory.
Basically it was a genuine joy to work with you leading up to the event
From the bottom of our hearts thank you for everything!"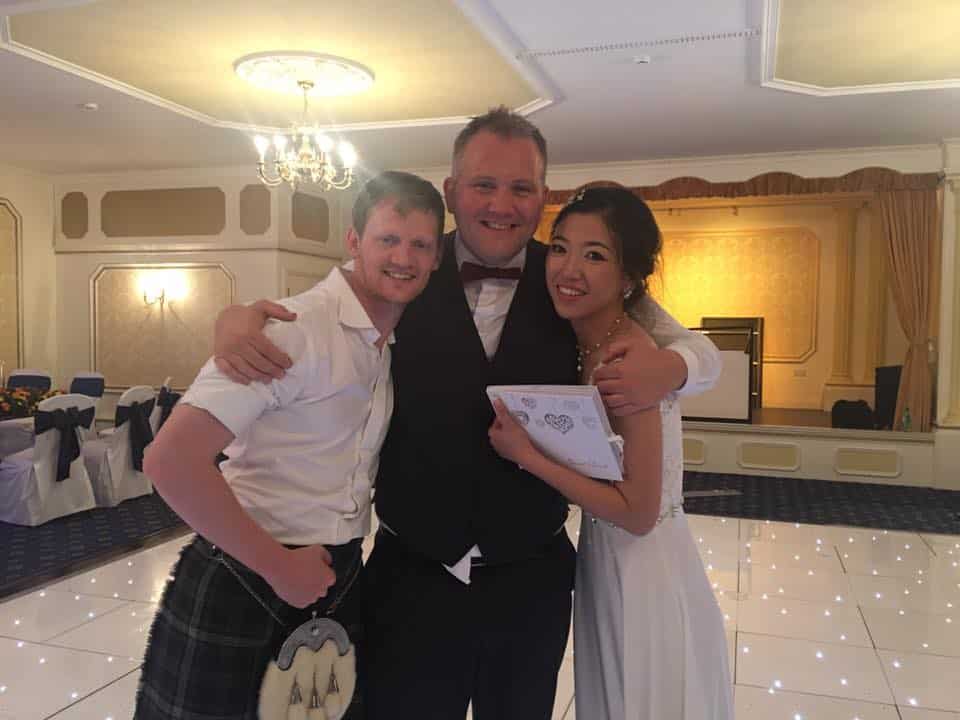 SCOTT & YINA
CORNHILL CASTLE, BIGGAR
"Stuart was fantastic!!!!!! We had the most amazing day and Stuart made the evening so much fun we couldn't have hoped for a better celebration. Thank you!!! We will never forgot it ! We have such wonderful and special memories."
KIRSTIE & PHIL
ARDOCH, LOCH LOMOND
"Fresh Entertainment was highly recommended to us, me and my partner was debating whether to get the all day package or just the evening package. We decided on the all day package and i am so glad that we did! Robert our DJ was such a key part of our big day, he kept guests entertained at all times and everyone commented on how much fun they had, In fact i don't think anyone came off the dance floor!
Robert brought colouring stuff and glow sticks for the kids (which even the adults enjoyed). Robert was professional, friendly and entertaining. I couldn't recommend Fresh Entertainments enough. THANK YOU ROBERT "
---
REBECCA & DAVID
INCHYRA BYRE, PERTH
"Great DJ service at our wedding provided by Robert! He made sure everyone was involved and helped us party till our feet were sore! Loved his enthusiasm and especially loved the singing and dance off style competitions which got everyone up on their feet. Thanks for making our night so special."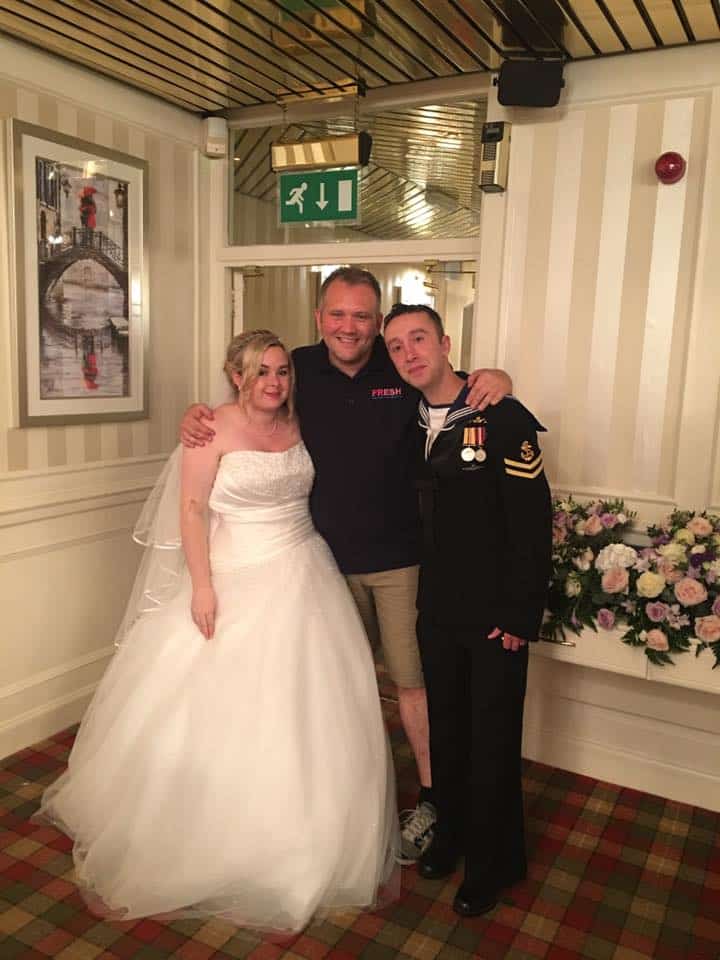 ASHLEIGH & JAMES
DUCK BAY HOTEL, LOCH LOMOND
"We had such a great time. Thank you for playing our wedding. There wasn't one moment that the dancefloor was empty. Not only is Stuart a professional but also s great guy. You made everyone relax and enjoy the night. Would recommend to anyone who wants an amazing night. Xx"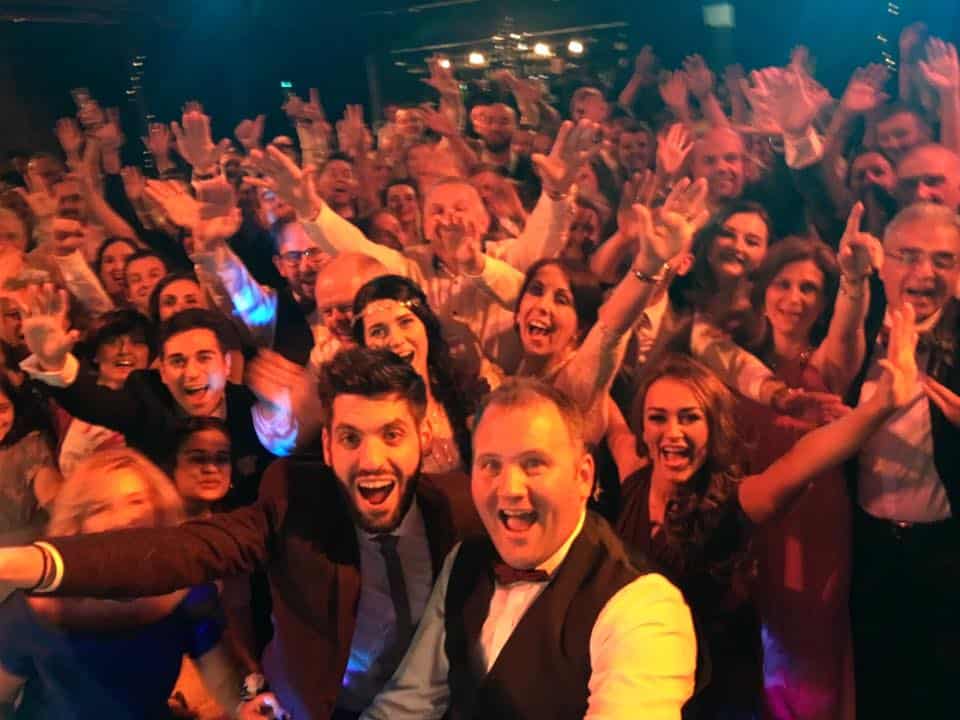 ---
AMANDA & NEIVAN
COTTIERS, GLASGOW
"My husband and I are delighted we chose Fresh to provide our wedding entertainment, and want to thank the team for their fantastic service – professional, reliable and friendly throughout. Stuart is an absolutely brilliant wedding DJ, and his experience of this particular type of event was evident. He got to know us beforehand, talking through our ideas and requests but also knew the importance of keeping the guests happy and involved – in the end, he achieved the perfect mix! Our guests have been raving about the fun they had and how unique the night was. The Photo Booth also went down a treat, we worried it might be a little cheesy or distracting but we couldn't have been more wrong. The guests loved that they had a wee memento to take home, and we had a blast looking through all the photos and comments in the guestbook. We warmly recommend Fresh, and wish future couples as much fun and happiness on their wedding day as we had!
Amanda & Neivan Boroujerdi"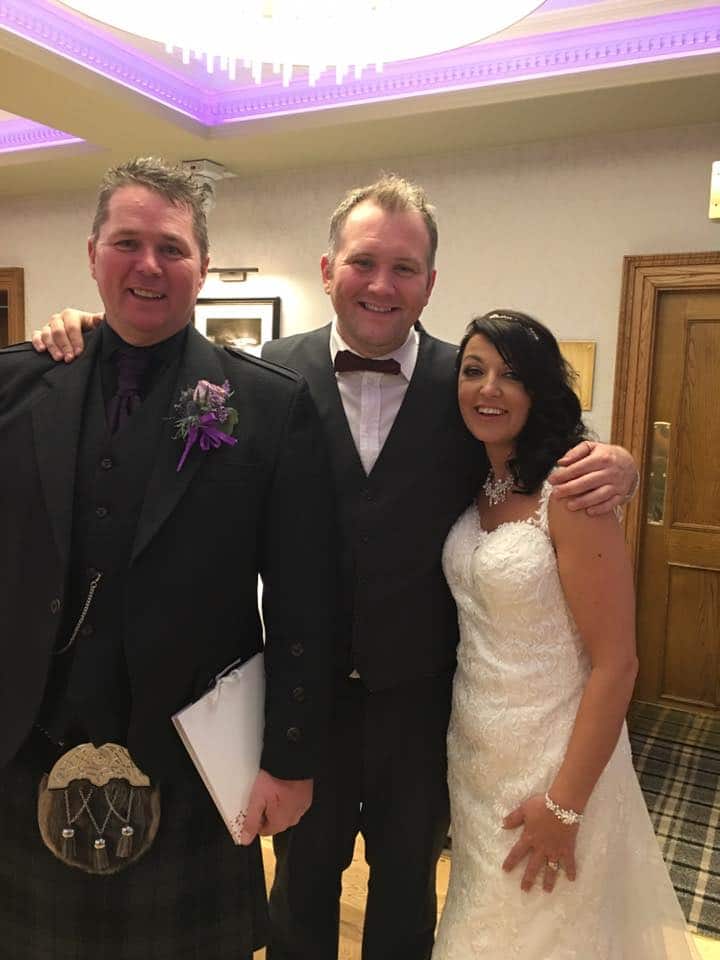 COLIN & MICHELLE
BUSBY HOTEL, BUSBY
"Stuart the DJ enhanced an outstanding day, our family and friends thought he was fantastic with an excellent range of music."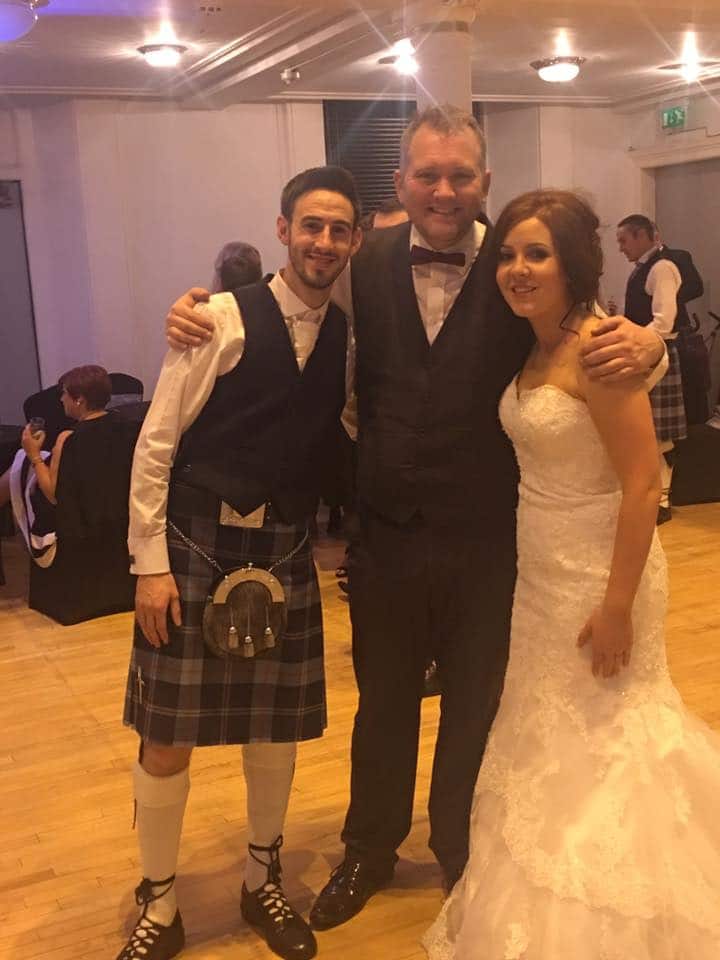 KALEN & GRANT
TOWN HALL, GREENOCK
"Had our wedding last night and thinking back and reliving an amazing night and this was down to you guys!!
From dance offs, to mannequin challenges to then having us all standing on chairs waving napkins around to that's amore – what a night!!
Cannot thank you enough and you entertained us thoroughly and so so happy wit the service you provided and what a ledge Stuart you are!
Defoes hire them to be dancing and entertained and truly one off experience I've ever had and everyone loved it!! Thank you so much xx"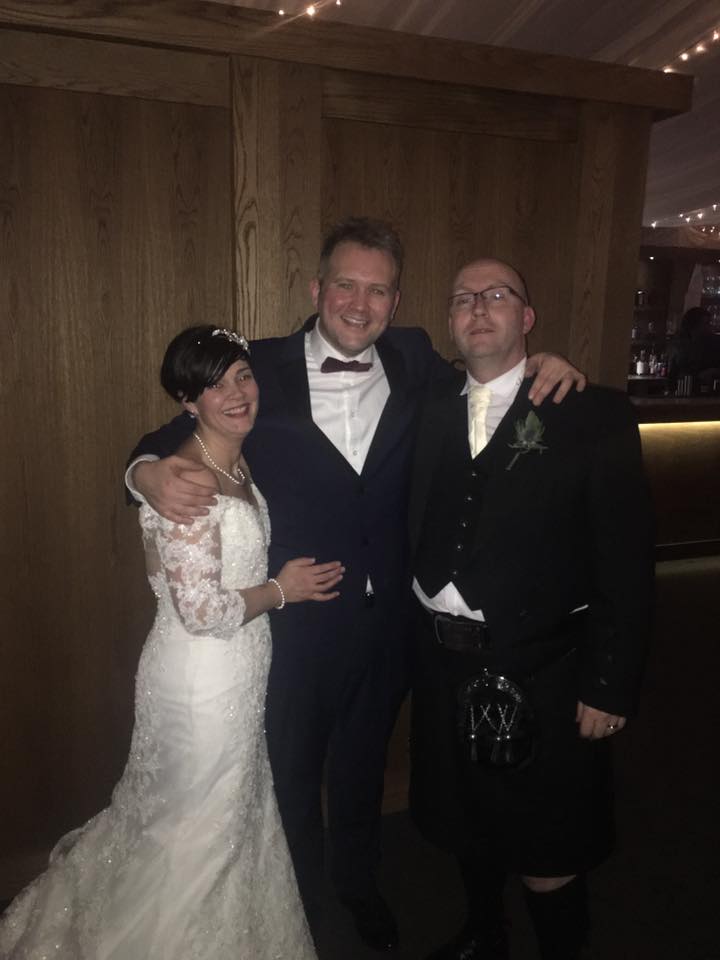 ---
ANGELA & STEVEN
CARNBOOTH HOTEL, GLASGOW
"I can honestly say that Stuart was amazing from start to finish I would highly recommend him as he made my wedding the success it was and my friends and family are still talking about my wedding. He completely settled in and was like part of the family lol.
From start to finish Fresh were constantly in contact with me and answered any queries I had. Also Stuart would contact me neither the time to discuss what he would do and give hints what to do. I have all ready recommended Fresh to me friend and hopefully she will get in touch very soon.in one word they were perfect!!!"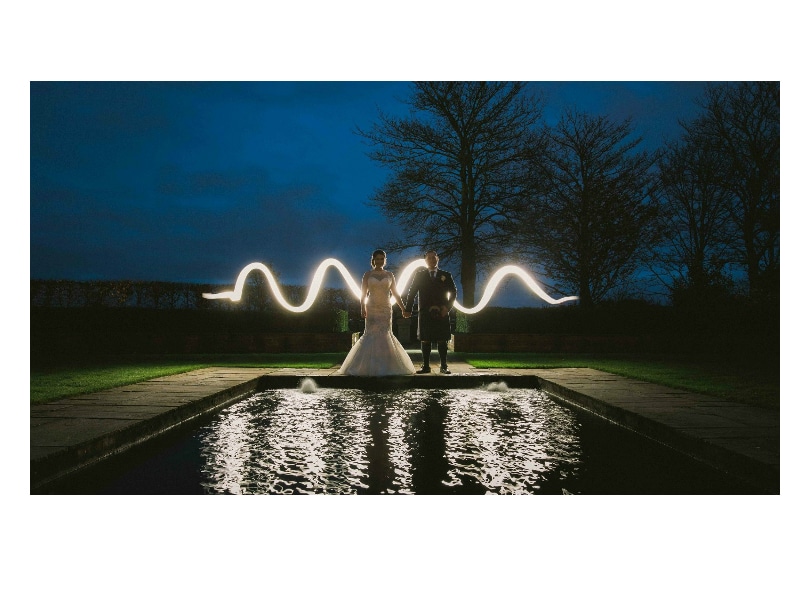 ---
AMY & STUART
WESTERN HOUSE, AYR
"As a friend of Stuart's I knew he would do a wonderful job at entertaining the guests at our wedding. Booking was very easy with a quick response and a price list supplied in return with detailed info of all entertainment packages. Laura kept us up to date throughout or planning process and having access to the online planner was great! Being able to logon and add a song at anytime or when getting requests from friends + family was a good tool to have.
On the evening of the wedding the entertainment was 1st class. The dancefloor was never empty and everyone had a ball! A good mixture of songs for all generations, a small ceilidh section and then lots of partying. This was exactly what we wanted for our evening entertainment and we were delighted with the service.
Thanks again Stuart and Laura for all your hard work!"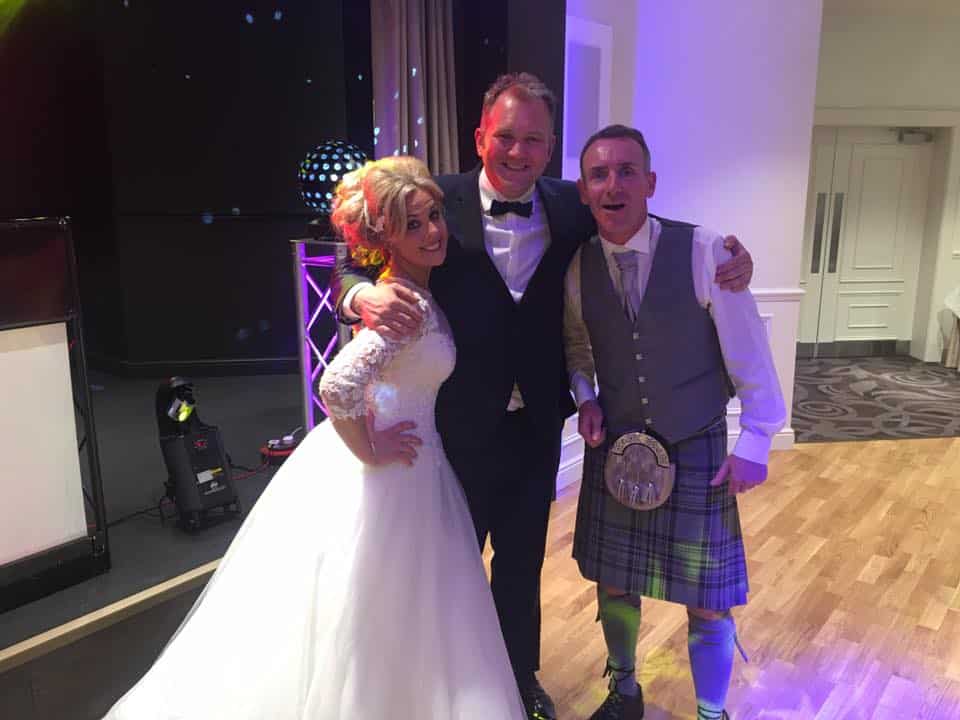 ---
DEJA & JOHNNY
SEAMILL HYDRO, WEST KILBRIDE
"Stuart has to be the best DJ we have had. He truly paid detailed attention to the needs of the crowd and was a huge part of making it a perfect day. From getting the crowd up for our first dance to dance offs with the whole of the wedding guests, Stuart knew exactly what to do to keep the crowd going and entertained. Now, nearly a month later, we continue to hear how great it was from our guests. We can't thank Stuart enough for all he did for us."
COLIN & SENGA HARROWER
ISLE OF BUTE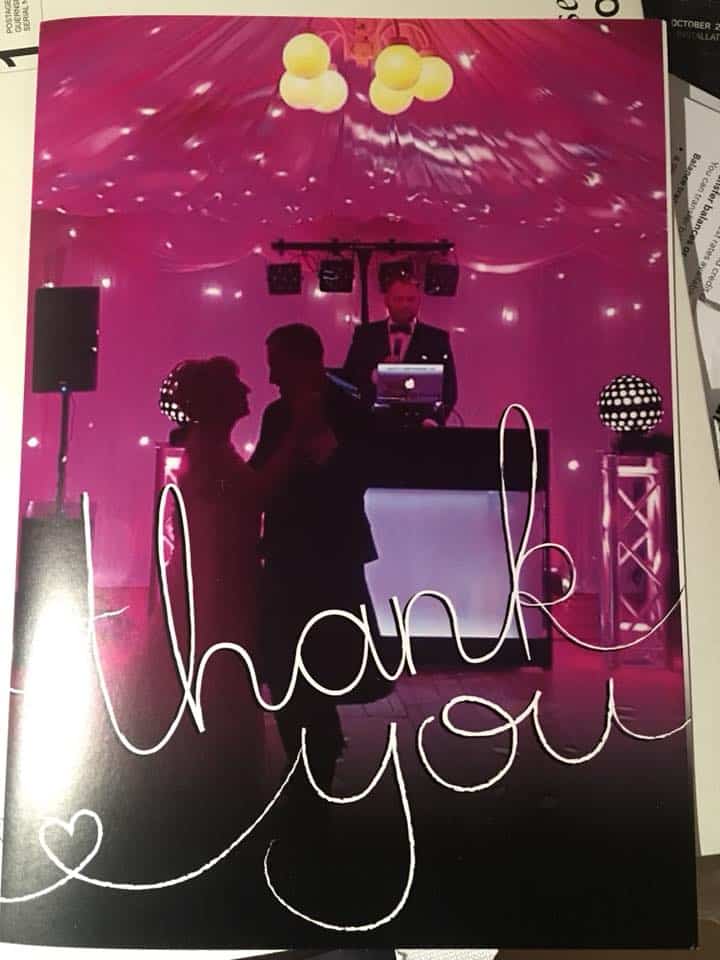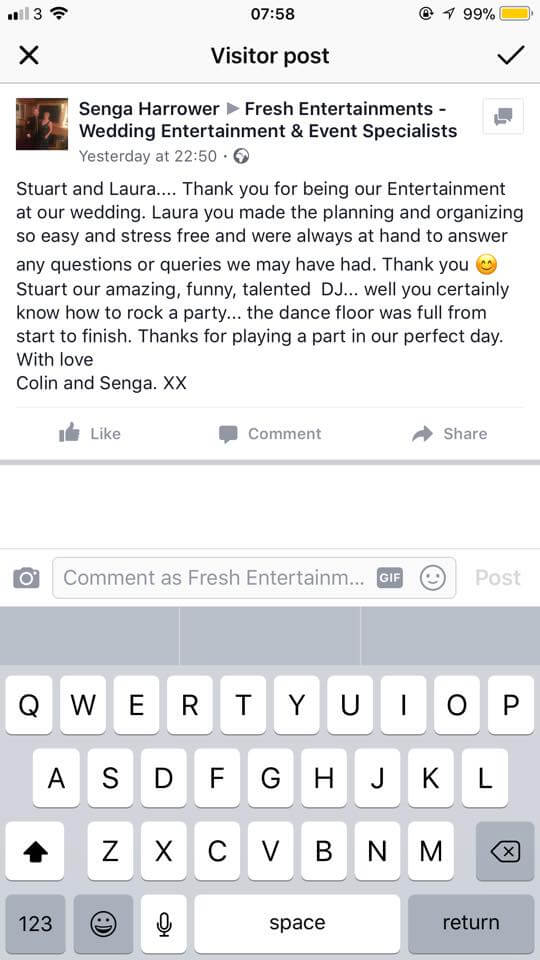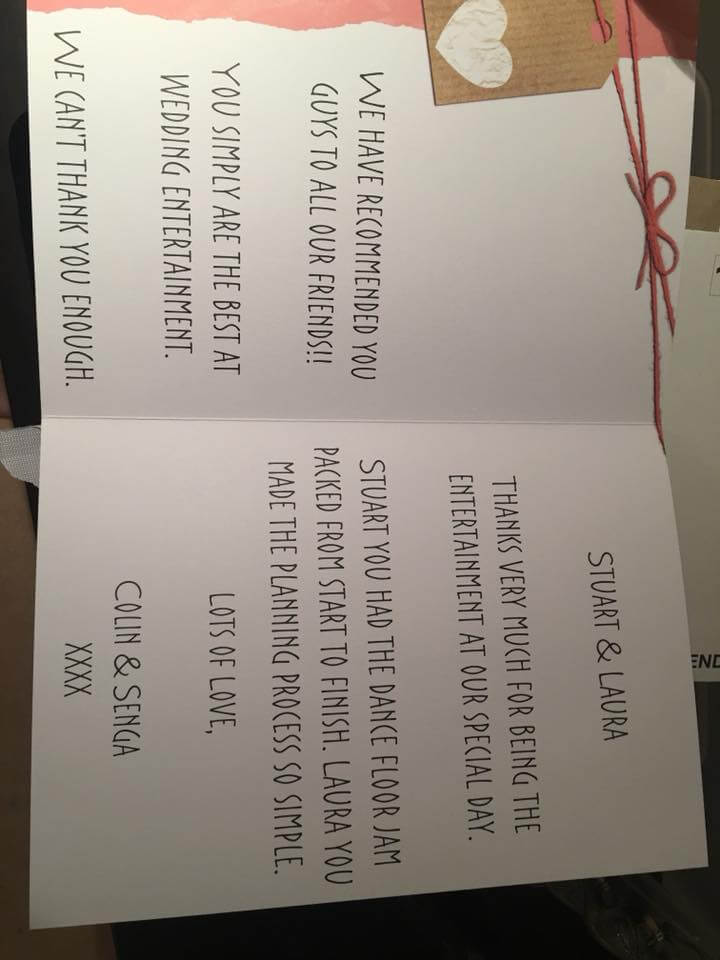 STUART & KAREN
TAYNUILT, HIGHLANDS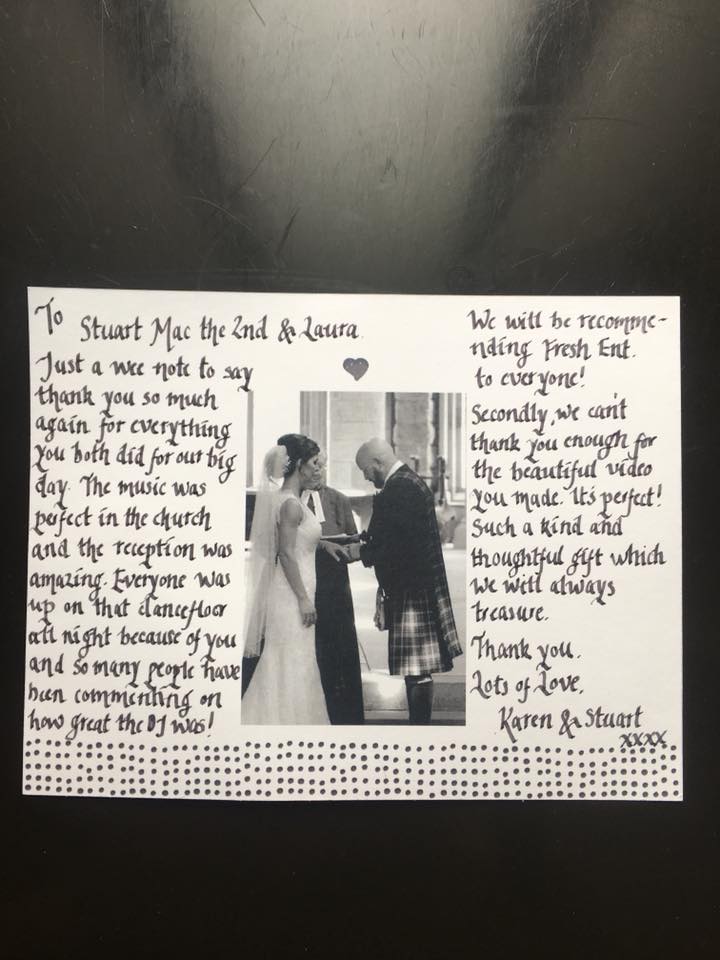 GAYLE & ALLY
WATERSIDE, AYRSHIRE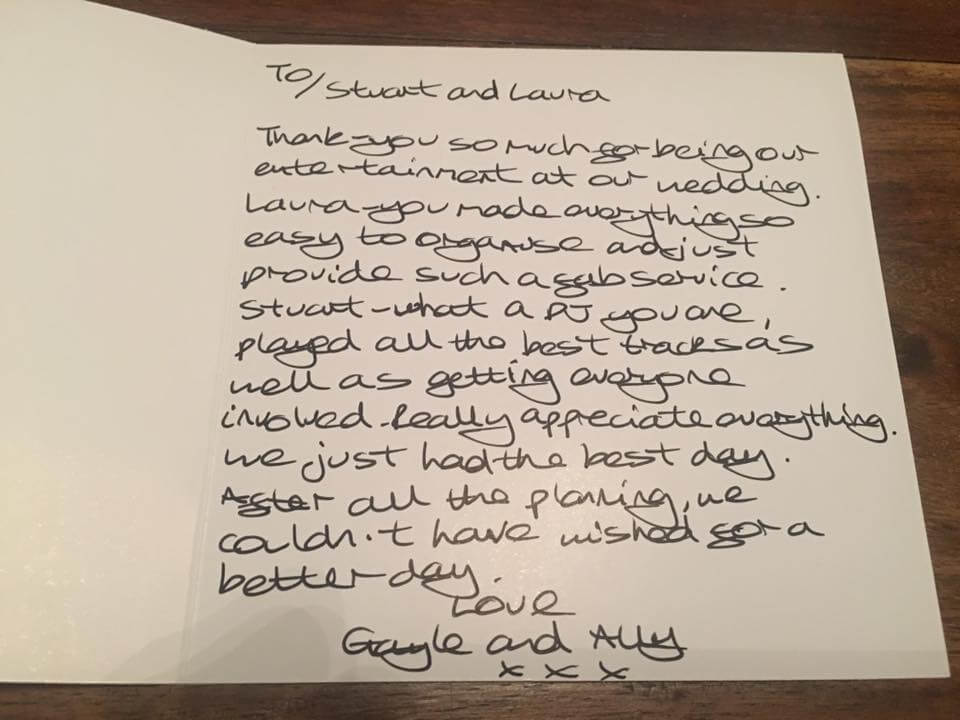 MEGAN & BRYAN
CROW WOOD GOLF CLUB, GLASGOW
Everything with fresh was so amazing. From start to finish the process was so easy. Being super stressed with planning a wedding in less than 14 weeks, the music seemed to sort it self out. Nothing was too much of a hassle and it was just the easiest most relaxed experience. I couldn't recommend fresh entertainment enough. Everyone from the guys emailing me to the Dj were just perfect. They took a little bit of stress away from me which was so helpful and so appreciated. Thank you so much everyone at fresh entertainment.
Our Dj deserves to be noticed for such an amazing wedding. He was super friendly and just a really lovely person, it I used your services again is hope to get a Dj just as good.
ARE YOU READY TO HAVE THE WEDDING OF YOUR DREAMS?
---