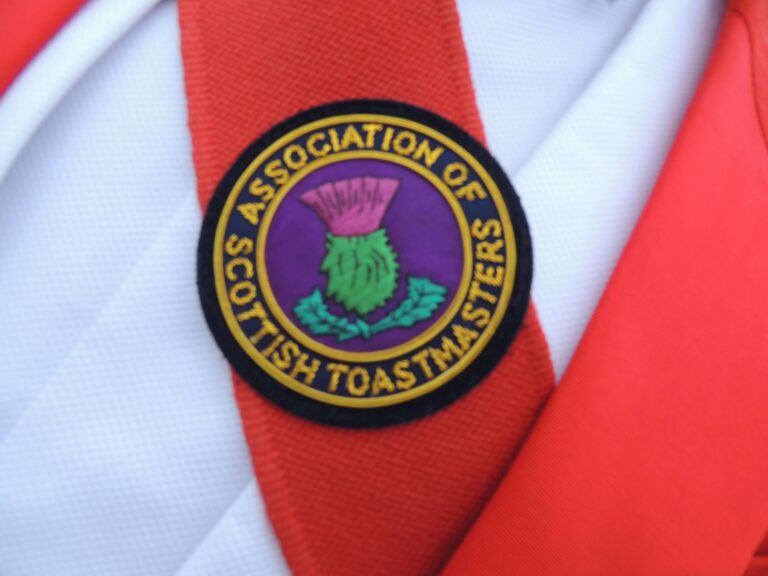 SCOTTISH WEDDING TOASTMASTER
We are proud members of the Association of Scottish Toastmasters.
This really is a special addition to your special day or event and from initial meeting till the end of your event, we take great pride in making sure your day is handled with professionalism and dedication.
WEDDINGS
After all the planning and preparations, you will want your Wedding Reception to run smoothly, and that's where a Professional Toastmaster will be of great benefit.
With a wealth of experience, the Scottish Toastmaster will co-ordinate the entire event, and also resolve any minor problems.
Our Toastmasters liaise with everyone involved to ensure the day is run exactly as you wish.
From the arrival of Guests to the first dance, your Toastmaster will
Ensure that the wedding breakfast is conducted with attention to protocol.
Free the Banqueting Manager and staff to concentrate on the catering arrangements
Help photographers and video film crews to create a memorable visual record of the proceedings.
Add a traditional and colourful touch to a wedding.
Provide "peace of mind" for parents, and bride and groom.
Your Toastmaster will perform many additional duties, including
Informing Guests of the order of proceeding
Organising and Introducing the Receiving Line
Cutting the Cake with Ceremony
Announcing all the Speeches and Toasts
Even before your Big Day, your Toastmaster can offer advice on timings, speeches, etiquette, and will be only too happy to discuss your plans in detail.The Toastmaster's traditional uniform, complete with red tail-coat, adds an extra splash of colour to the occasion.
Coupled with professional conduct, tact and expertise, your Wedding Reception will be in safe and reliable hands.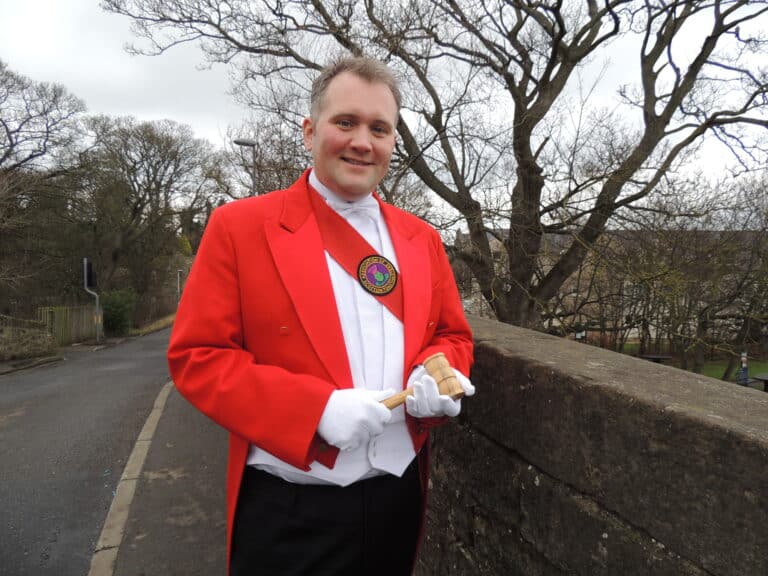 The Association of Scottish Toastmasters which is the only organisation representing professional Toastmasters working in Scotland, was founded in the millennium year.
The following year the Association of Scottish Toastmasters was officially launched on 21st March.
A ceremony to mark the occasion was held in rooms adjacent to the Scottish Parliament and was attended by the patron The Rt Hon Lord Steel of Aikwood who presented each member with their distinctive 'millennium tartan' sash and certificate of enrolment.
The Association of Scottish Toastmasters was born from a desire to maintain standards of service and to raise and promote the profile of professional Toastmasters working in Scotland.
The association members, who have over one hundred years of experience between them, officiate at Royal and State occasions, weddings, banquets, dinners and many other formal and informal functions.
Members of The Association of Scottish Toastmasters firmly believe that they bring a sense of unobtrusive dignity and efficiency to any event – at any location.
Scottish Wedding Toastmaster Corporate Hosting
Corporate Events cover a whole range of activities from Civic Functions, to Banquets, Balls, Awards Ceremonies, Company Dinners, Burns' Suppers, and Conferences, to name but a few.

You can be assured that any Toastmaster from the Association of Scottish Toastmasters is fully experienced and competent to provide a first class service for your event. They will apply their specialised knowledge of formal etiquette, protocols and procedures to ensure that your function redounds to the credit and reputation of your organisation.
Your Toastmaster will liaise throughout with the organisers and venue management to ensure that your function will be a success, with meticulous attention to detail to ensure the smooth running of your event.

You can rely on there being meticulous planning and constant professional direction administered at all times with decorum and taste.

We await your call, you will not be disappointed.
Would you like to have a Toastmaster at your wedding?
Make an enquiry with us to see how we can add that extra bit of class.