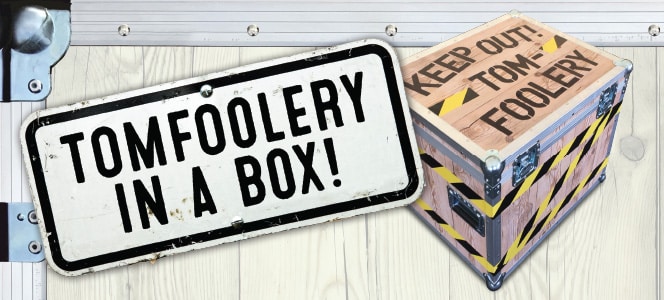 At a predesignated time (worked out by yourself and us), a mysterious flight case is carried by two volunteers to the very centre of the dancefloor. There it is left for all to marvel at and speculate about (the contents, at this stage, are only known to the organisers and ourselves). The Tomfoolery Box has been pimped to look like it's been delivered straight out of Jurassic Park! It sports a dangerous-looking livery with distressed timber effect surfaces, black and yellow warning tape and messages asking guests to 'keep out' and 'stand clear'. The word 'TOMFOOLERY' is of course centre-stage on the lid.
So as the lid is lifted and the fun spills out: between 60 and 100 party props are rammed into the box! Some inflatables are already blown up ready to fly out upon opening, others are ready to be inflated by the guests.
We include everything from the standard guitars, saxes and mics to bananas, crutches, boom boxes, barbells and tommy guns… all inflatable! There's also plenty of crazy headwear, from animal (elephant, monkey and piranha) to traffic cone and Where's Wally hats! I also usually include the full Village People head gear collection – helmets and caps – along with amazing wigs, a great selection of huge glasses and plenty of noise-making instruments.
And the best bit? Your guests can keep the lot!
Letting guests keep the props also results in a memorable post-party exodus as they stagger home in full 'tomfoolery mode'.